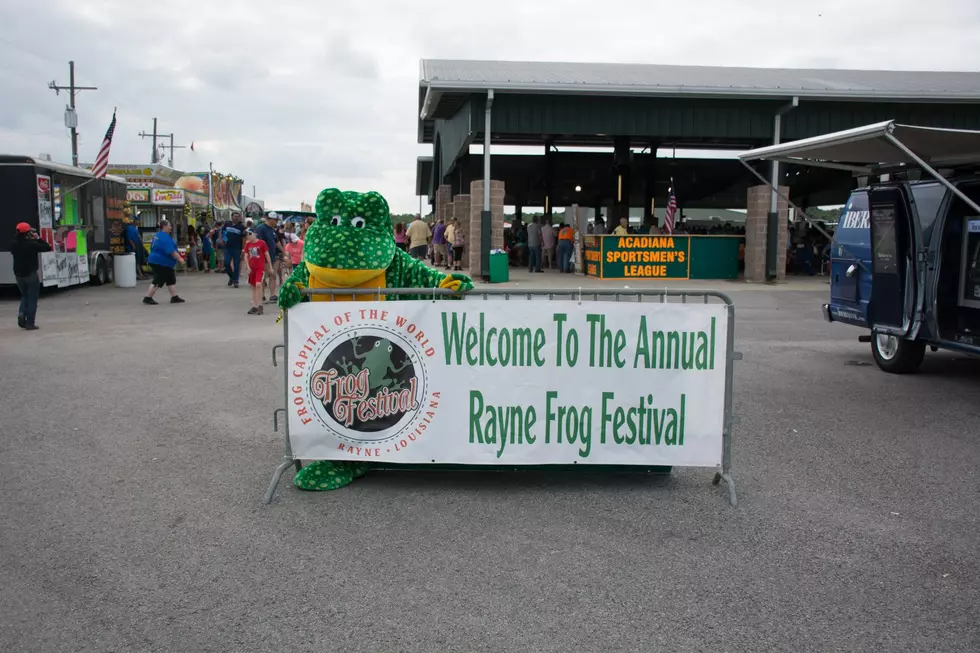 2019 Rayne Frog Festival Music Line-Up Announced
Amber Laviolette
The Rayne Frog Festival has announced the music line-up for 2019 and it's a solid mixture of local, regional and national talent.
Of course, you'll have to wait a bit before you can celebrate those frog-tastic little critters. Next year's festival runs May 8-11.
Here you go, the 2019 Frog Festival musical line-up:
8:00 pm to 10:00 pm - Nik-L-Beer
6:00 pm to 8:00 pm - Geno Delafose & French Rockin' Boogie
8:30 pm to 10:00 pm -  T. Graham Brown
10:30 pm to 12:00 am - Krossfyre
12:00 pm to 2:00 pm - Acadiana School of the Arts & Mouton's Music featuring Young Talents
2:30 pm to 4:00 pm - Keith Frank & the Soileau Zydeco Band
4:30 pm to 6:00 pm - Warren Storm, Willie T & T.K. Hulin
6:30 pm to 8:00 pm - Country Roundup featuring Kip Sonnier, Jeff Dugan, and Tony Bruce
8:30 pm to 10:00 pm - Wayne Toups and Zydecajun
10:30pm to 12:00 am - Category 6
In addition to the live music, the Rayne Frog Festival features delicious foods and drinks, signature events such as frog racing and jumping, selection of the Rayne Lions Club Derby Queen, Diaper Derby, Arts & Crafts show, Frog Cookoff, Frog Eating contest, Dance contest, Accordion contest, and the Grand Parade.
More From Talk Radio 960 AM