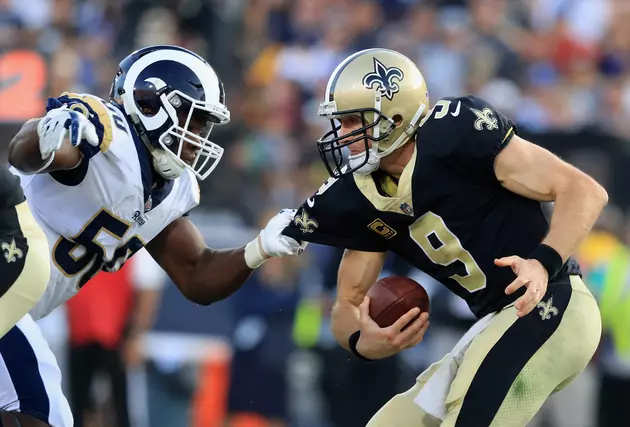 5 Positives/5 Negatives From Saints' Loss To Rams
(Photo by Sean M. Haffey/Getty Images)
Below are five positives, and also five negatives, to take from the New Orleans Saints' 26-20 loss to the Los Angeles Rams on Sunday.
The loss snapped the Saints' 8-game win streak, and dropped them to 8-3 on the season, still good enough for a first place tie in the NFC South.
1)---Alvin Kamara: There probably aren't many people still complaining about the Saints drafting him now. He was tremendous, yet again, rushing for 87 yards, on only 5 carries, while eclipsing 100 receiving yards. He scored on a 74-yard touchdown run early, and also hauled in a 15-yard touchdown pass late, that got he Saints to within one score. Without a doubt, the bright spot of the day. Kamara, at this pace, may very well win the NFL's Offensive Rookie of the Year.
2)---Vonn Bell: He's not the best n coverage, but he's a tackling machine, and his skills were on full display again on Sunday. Bell led the team in tackles with 11, including a sack. The secondary didn't play well, mostly due to injuries, but Bell was an exception.
3)---Wil Lutz: He was 2-for-2 in field goal attempts, including a long 50-yarder, and even made a tackle on special teams. When he's kicking the ball well, like he was doing on Sunday, it's easy to understand why the Saints are s high on him.
4)---Cameron Jordan: He compiled two sacks, both in the first half, batted down two passes, and blew up a Tavon Austin run, in which Austin lost 8 yards. Jordan got hosed last year, being left off the Pro Bowl roster. The way he's playing this year, with 10 sacks, there's no way he won't make it for a third time. 
5)---Thomas Morstead: He averaged 53.0 yards on 7 kicks, and absolutely nailed a 67-yarder, which helped flip the field. The Saints still had some issues I pun coverage, but old Mr. Reliable came through again.
1)---Marshon Lattimore: He was sorely missed on Sunday, as Jared Goff just riddle the New Orleans secondary, throwing for 354 yards and two touchdowns. True, most teams feel it when they lose their top cornerback, but the Saints looked particularly susceptible on Sunday. Lattimore is a stud, and the Saints need him. His ankle injury is not expected to be a prolonged thing. It better not be.     
2)---Kenny Vaccaro: He sustained a groin injury thee weeks ago against Tampa Bay, and missed the last two games. It showed on Sunday, especially on a 53-yard reception by Cooper Kupp, in which Vaccaro pulled up. We know Vaccaro best work is not done in coverage, and that showed once again on Sunday. 
3)---Willie Snead: After a career season in 2016, one in which he caught 72 passes, Snead has been nowhere to be found in 2017, with only two catches. He was suspended the first three games of the season, before being hampered by a bad hamstring. There was even talk about him being traded, which wouldn't have been the case if Snead were playing at the level he did last year. Again on Sunday, Snead was almost an afterthought, finishing with one catch for 9 yards. This offense can be better, and because of that the Saints can be better; but they need better production from Snead to make that happen. I'm almost resigned to the fact that just won't happen, at least this year.
4)---De'Vante Harris: He got the start, in place of Latimore, and struggled. He was continuously beat, and was replaced by Sterling Moore late in the third quarter. Not a good day for Harris. 
5)---Third Down Conversions: The Saints finished only 3-of-13 on third down attempts. They were the best in the league in third won conversions last season, but rank 22nd this year. They weren't good in this department once again on Sunday.
More From Talk Radio 960 AM