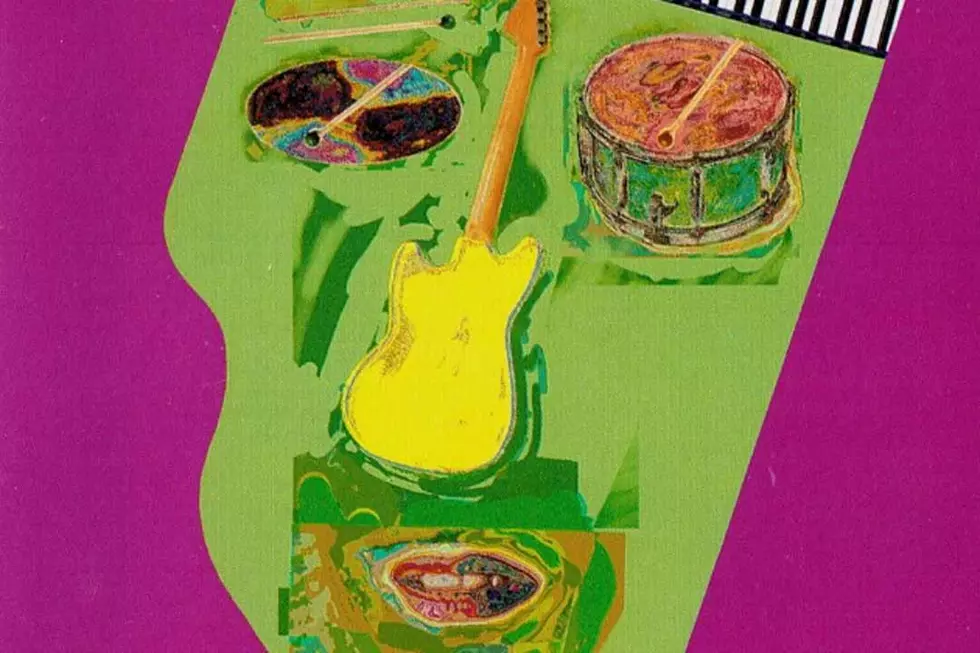 When Adrian Belew's Solo Career Took Off With 'Mr. Music Head'
Atlantic
By the late '80s, Adrian Belew had compiled an incredible list of credits that included stints with Frank Zappa, King Crimson and Talking Heads. His greatest success lay just ahead, however, and it would come as a solo artist.
Although he'd already released a handful of records on his own, starting with 1982's Lone Rhino, Belew's attention during the '80s was divided between solo albums and his work with Crimson and another band, the Bears, with whom he recorded a pair of LPs released in 1987 and '88. Although he wasn't exactly a household name, he was consistently in demand – and considering that just a decade earlier he'd despaired of ever making a living with his musical gifts, Belew seemed more than happy to forsake solo stardom in the name of long-term success.
Saying he got his big break from Zappa "out of the blue when I was at my lowest point and was thinking that maybe I won't have a place in the music business," Belew later recalled, "I really was a starving artist, as they call them. Frank called me and asked me if I could audition. He had heard me play in a little nightclub and then months went by and he never called, so I figured it was just a fluke. Then one day, he suddenly called again. It changed my life on a dime.
"It put me into hyper-professional mode, where I suddenly had to play catch-up," Belew continued. "I had to be in a touring band, playing Frank Zappa's music, going around the world. Can you imagine that? From being in a band where you are playing to 15 bikers swilling beer in Nashville to being onstage with a hugely complex operation called Frank Zappa."
And that was only the beginning. "It seemed from that point on that all the dots fell into place. Brian Eno heard me and he called David Bowie and he asked me to play with him, and the Talking Heads hear me with Bowie and they ask me to play with them, and then Robert Fripp hears me along the way – and he asks me to form the new King Crimson with him. It was just head-spinning for me. I had no idea what to do. I was there, hanging on tight."
It's fitting that all those opportunities were head-spinning for Belew, because the sounds he managed to coax from his guitar had an equally discombobulating effect on his growing cadre of listeners. Although he certainly understood how to lay back in the service of a good pop song, Belew was also known for using his instrument in decidedly unorthodox – and virtuosic – ways.
Listen to Adrian Belew Perform '1967'
Not bad for a Kentucky kid who started out on drums and only picked up the guitar after being bedridden with mononucleosis.
"I was brought up on pop music, Motown, the Beatles – and I loved all of that. That was the stuff you heard on the radio," Belew told Something Else! in 2011. "At the same time, I always had an interest in odd things, movies soundtracks and Stravinsky, things that had nothing to do with rock. When I graduated into being a guitar player, I tried to give myself a real broad education. I learned how to fingerpick from Chet Atkins records, learned how to play blues and jazz – all while listening to the current rock stuff, like Jeff Beck. Then, I tried to forget it all. Okay, I can sound like all of these guys. What do I do that's my own?"
The answer to that last question often ended up being too quirky or esoteric for mainstream listeners, and when he started working on what would become his fourth album, 1989's Mr. Music Head, Belew didn't even have a solo contract. As he confessed in a later interview, the songs he'd initially written for the project didn't seem likely to change that situation; in his words, "Most people thought 'this is a little bizarre, Adrian. ... I don't know how you're even gonna get a record deal.'"
The song that changed everything – and ultimately brought Belew his 15 minutes of solo fame – was a bright three-minute pop number titled "Oh Daddy," which sits a sweet vocal duet between Belew and his then-10-year-old daughter against a stomping piano line and bright slabs of borderline skronky guitar. "It's very unusual because it's almost like two different records," he pointed out. "The first side – this is back when they had sides – is all pop songs, and the second side is a whole different sound. I actually did the second side first, and then began what turned out to be the first side. So it was about seven songs before I had this little novelty song called 'Oh Daddy.' And that's actually what got me a record deal. No one was the least bit interested in the material that I had until suddenly 'Oh Daddy' appeared on the scene."
Though he dismissed it as a novelty song, "Oh Daddy" was also catchy as all get-out, and it took a fresh approach to describing the rock-star life by positioning the musician as a put-upon dad forced to deal with questions from kids who want to know when he's going to sell a million records and buy a big Cadillac.
"That really was just something fun to do with my daughter. I didn't think it would even be on the record," he admitted in a separate talk with Something Else! "I was doing the rest of what become Mr. Music Head, and I brought her in thinking this would be fun ... There was a guy there that came through who was a producer for Atlantic Records. He heard it and fell in love. He didn't hear any of the other stuff, but he was ready to sign me. My whole career with Atlantic was based on that song, something that I didn't think I would put out anyway."
Watch the Video for Adrian Belew's 'Oh Daddy'
The song came with a fairly adorable video that enjoyed medium rotation at MTV and helped turn the track into a hit on Billboard's Modern Rock chart, and its success helped fuel the next phase of Belew's solo career, which included a stint as musical director on David Bowie's 1990 Sound+Vision tour. That in turn led to Bowie making a pair of appearances on Belew's next record, 1990's Young Lions, both eventual Modern Rock hits. Much as he might have appreciated the increased attention, however, Belew wasn't in any rush to achieve pop stardom.
"I was never keen to do the MTV thing," he told Something Else! "I always felt the music should stand on its own. I didn't want to dance around like everybody else was doing. 'Oh Daddy' did something; it got us into the Top 40. For a while, it was played a lot – but you only get a few weeks of window time. In this case, I'm thankful. It was a novelty. I'm glad I wasn't saddled with it."
Belew's association with Atlantic Records ended with 1992's Inner Revolution, but he's continued recording steadily over the years, both on his own and with an ever-more-impressive list of collaborators that includes Bela Fleck, Nine Inch Nails and Ryuichi Sakamoto. And as he went on to tell Something Else!, while his moment in the Top 40 spotlight might be decades in the past, he remains as creatively invigorated as ever.
"I'm still writing songs like a kid," he enthused. "Despite the lack of commercial success, I love the music I've made. I'm very happy with all of the music and all of the collaborations. I still have all of that in front of me. I feel like I could do this forever."
 
 
See King Crimson Among the Top 100 Albums of the '80s
More From Talk Radio 960 AM