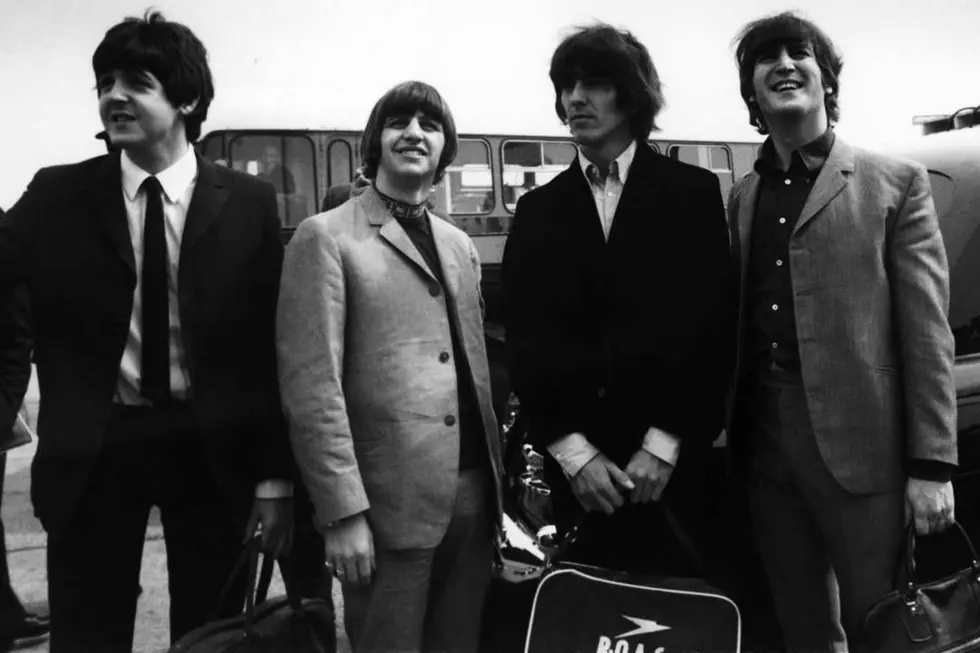 How the Beatles Moved Into the Next Phase With 'Help!'
Evening Standard / Hulton Archive, Getty Images
Rubber Soul is often marked as the turning point in the Beatles' career, the moment where they transcended the pop confines of Beatlemania and became serious artists. But the first steps toward that independence came a few months earlier on Rubber Soul's predecessor Help!, a soundtrack of sorts to the Beatles' second movie and their first real exploration outside of pop's stifling limitations.
The group's restlessness was starting to become obvious on its previous album, Beatles for Sale, which was the quartet's third LP in a little more than a year. The strains of Beatlemania were showing by this point. Almost half of the songs on the album were covers, and most of the originals by John Lennon and Paul McCartney weren't up to their usual standards.
They were in a rut and they knew it. They needed a change. And they used the opportunity of their second movie, a fun, if disposable, piece of 007-era film-making, to try out some new things with their music.
Sessions for the album, their fifth, began in mid-February 1965 – a little more than two months after the release of Beatles for Sale – and wrapped four months later. They recorded 20 songs, 14 of which ended up on the LP. And like A Hard Day's Night, also a soundtrack of sorts, Help!'s first side includes songs heard and performed in the movie; the second half features two covers (one sung by Ringo Starr), a George Harrison song (he's given two for the first time) and a handful of tunes that foreshadow Rubber Soul.
Watch the Beatles Perform 'Help!'
Help! also marks a significant step in Lennon and McCartney's independence from each other. They had started writing separately a bit earlier, but on Help! their music began to reflect their personalities. The title track is an impassioned plea from John Lennon as he sank under the weight of Beatlemania (and a sign of the more personal direction his songwriting would take later in the Beatles and into his solo career); "Yesterday" is a loving, nostalgic nod to the past from Paul McCartney (who would dip into this sort of misty sentimentality throughout his career).
Either way, Help! serves as the bridge between the first and second parts of the Beatles' career. Songs like "You're Going to Lose That Girl" and "Ticket to Ride" are as equally rooted in the past as they are signs of things to come. Outside influences of Bob Dylan ("You've Got to Hide Your Love Away") and country music ("I've Just Seen a Face," Starr's straight-up cover of Buck Owens' hit "Act Naturally") also ease their way into the mix.
The album was released on Aug. 6, 1965, in the U.K. (The U.S. version of the LP, which cut several songs and added an orchestral score from the movie, came out a week later; the leftover cuts found their way onto other Beatles releases over time.) It reached No. 1, surprising no one, as did the singles "Help!," "Ticket to Ride" and "Yesterday," which was released only in the U.S. and went on to become the most covered song of all time.
More importantly, the record begins to distance the group's ties to its past – maybe not definitively, but enough so that Rubber Soul didn't sound like a total shift in style when it arrived four months later. It was a giant leap for the Beatles. They got their footing for it here.
The Most Shocking Rock Star Fashion Reinventions
From David Bowie to Metallica, these are the most shocking rock star fashion reinventions.
The Beatles Are One of the Bands Who Hated Their Own Albums
More From Talk Radio 960 AM