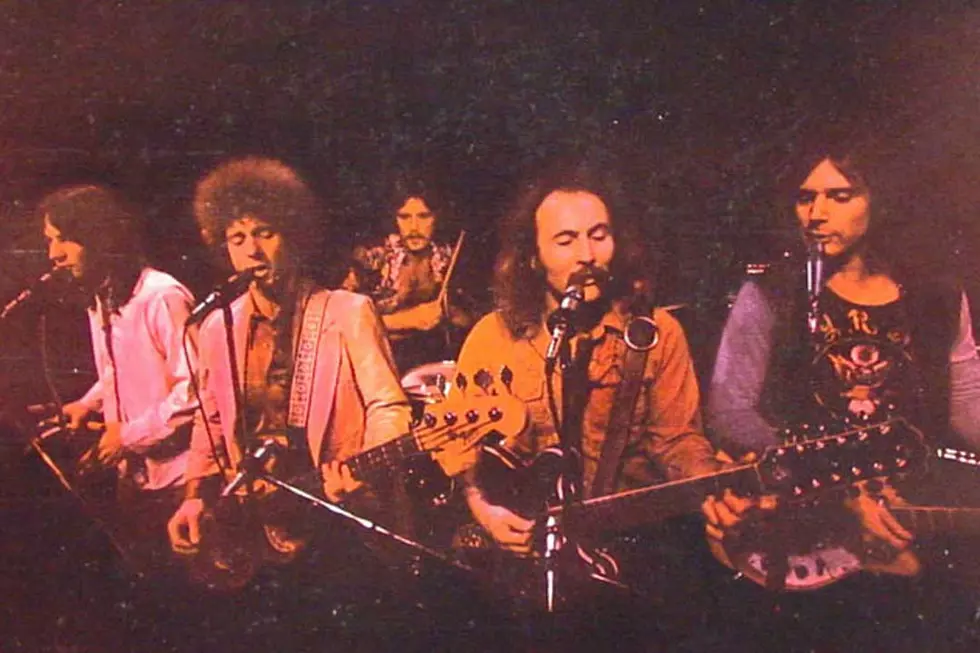 50 Years Ago: Original Byrds Get Back Together for One More LP
Asylum Records
By 1972, the Byrds had pretty much become a vehicle for Roger McGuinn's solo recordings. The original quintet began falling apart in 1966 after the departure of Gene Clark, who penned most of the group's original early songs.
Over the years, one by one, the founding members – David Crosby, Chris Hillman, Michael Clarke – departed. So did their replacements – including Gram Parsons, the country-rock pioneer who made one album with the band, 1968's classic Sweetheart of the Rodeo.
McGuinn retained the Byrds name, releasing five albums between 1969 and 1971, none of them very memorable. So, after the group he was fronting on tour started complaining about pay, among other things, McGuinn hatched a plan to reunite the band's original five members.
It wasn't too hard: Clark's solo career was a bust; the Flying Burrito Brothers had broken up, leaving Clarke without a band; Crosby, Stills and Nash were on another hiatus; and Hillman, working with Stephen Stills in Manassas, was in between projects.
Listen to the Byrds Perform 'Things Will Get Better'
In the fall of 1972, the original Byrds got together in a Hollywood studio and recorded approximately a dozen songs for the album. Simply titled Byrds, the March 7, 1973 released included a couple of songs from Clark, including the opening "Full Circle," the album's highlight.
Crosby and McGuinn each wrote two, and Hillman penned one. The remaining three songs consisted of Joni Mitchell and Neil Young covers.
Those expecting a return to the Byrds' mid-'60s output were no doubt disappointed by what they heard. For starters, the group's signature jangly guitar songs were missing. And the five members, who hadn't played together in six years, sounded disconnected. The harmonies were no longer soaring, the musical camaraderie no longer a constant.
Still, Byrds became the band's highest-charting LP since their second, 1965's Turn! Turn! Turn! But that No. 20 showing couldn't keep the reunion moving forward. Soon after the album's release, the Byrds broke up again. A few months later, McGuinn released his first solo album.
A few reunions followed, but Byrds remains the last album released under the group's name.
Band Battles: Artists Who Used the Same Name at the Same Time
Here are some of the biggest band name battles from artists who used the same moniker at the same time.
More From Talk Radio 960 AM