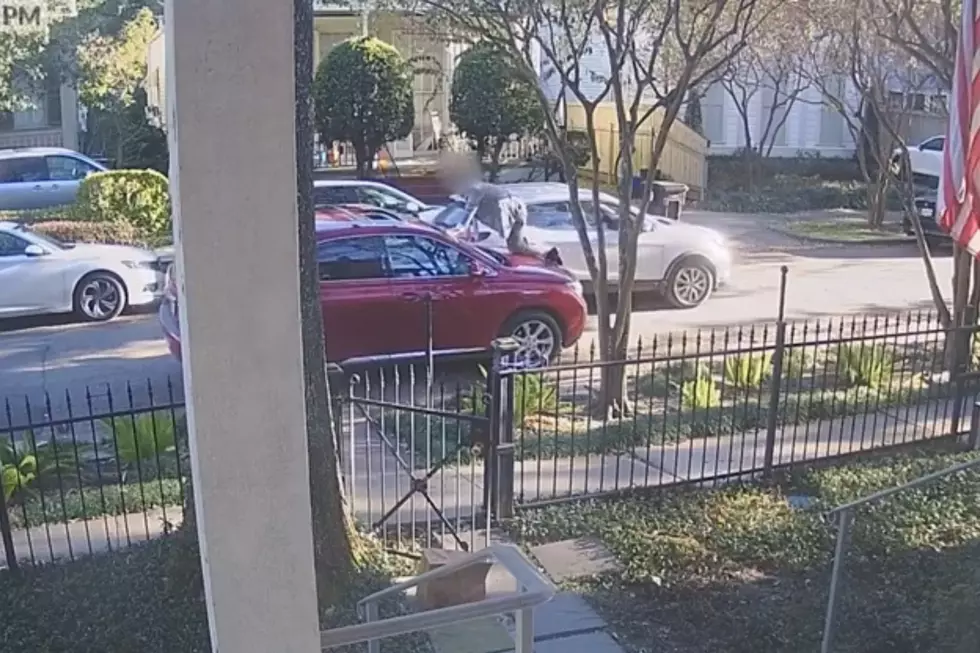 Watch New Orleans Man Fight Off Carjackers With Pot of Gumbo, Wrestle Suspect Through Sunroof
WDSU
While this unidentified NOLA man took matters into his own hands during an attempted carjacking, in hindsight, he's acknowledging the danger associated with his actions.
According to WDSU, the man was dropping off a present to a neighbor on Christmas Day in Uptown New Orleans. You can see the man exit his vehicle on video—as he told the news station that he didn't plan on his delivery taking any longer than one minute.
As his red SUV was running in the background, a silver SUV pulls into the frame. At that point, one of the two males exits the vehicle and then slips behind the wheel of the red SUV.
What happened next might be the most Louisianian defense tactic on record as the carjacking victim threw the gift he was bringing to his neighbor—allegedly a pot of gumbo—at the vehicle. He then climbed on top of his vehicle as the suspect was trying to get away with it, grabbing him through the sunroof in a desperate attempt to wrestle him out.
Eventually, the victim was able to snag the suspect's jacket—at which point he exited the red SUV and hopped into his original vehicle, and fled the area. While his adrenaline was running, it wasn't lost on the victim that most of the thieves that are attempting these carjackings are armed.
I was nearly run over twice and reacted on instinct to protect myself and my property. What would you do in this situation? In hindsight, there were better decisions I could have made, but I am fed up with crime in our city. We expect our police and municipal leaders to do what is necessary to protect its citizens.
A former New Orleans Police Department commander told WDSU that while he understood how frustrated residents were with the crime, they should never take matters into their own hands.
It's dangerous for you and everyone else involved. In this situation, get as much info as you can and a good description of the perps and let them go. Again, it's property — it can be replaced. We have to get in the habit of when we get out of a vehicle, take the key with you
WDSU says that while the victim did not suffer any serious injuries, he did file a police report online.
Unfortunately, statistics for carjackings in the city of New Orleans soared in 2022 with a 35% increase (4011 vehicles) from the previous year.
See the full story here via WDSU.
25 True Crime Locations: What Do They Look Like Today?
Below, find out where 25 of the most infamous crimes in history took place — and what the locations are used for today. (If they've been left standing.)
More From Talk Radio 960 AM