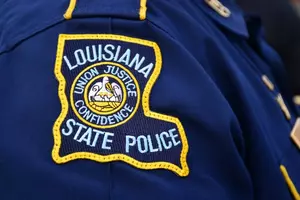 LSP Concerned About Proposed $23 Million Cut
Louisiana State Police Patch, Facebook
Louisiana State Police has serious concerns over the budget that has been approved by the House.
The governor recommended a $5 million cut to State Police, but the House's spending plan calls for an overall reduction of $23 million from the current fiscal year. Maj. Doug Cain says this could lead to fewer troopers.
"We would have to cut a 50-person cadet class, which we hope to do in the next fiscal year. Certainly we need that more than ever, as 280 of our troopers can retire as of July next year," Cain said.
Cain says LSP would also have to look at reducing the increased force in New Orleans' French Quarter to ensure there are enough troopers in every parish. He adds that 60 percent of LSP's vehicle fleet is due for replacement, because they have more than 100,000 miles on their odometer.
"That vehicle is that trooper's office. That's what he works out of 12 hours a day. At some point maintenance cost is more than purchasing a new vehicle," Cain said.
Cain says since they can't reduce the number of troopers on Louisiana's highways, they would turn to equipment to make the cuts. That includes a plan to provide body cameras to all troopers in the state.
"We were able to deploy those to the New Orleans detail troopers, but our statewide deployment is on hold pending funding issues," Cain said.
Cain says its State Police's hope the Senate will fund their agency to the level that the governor recommended.
More From Talk Radio 960 AM