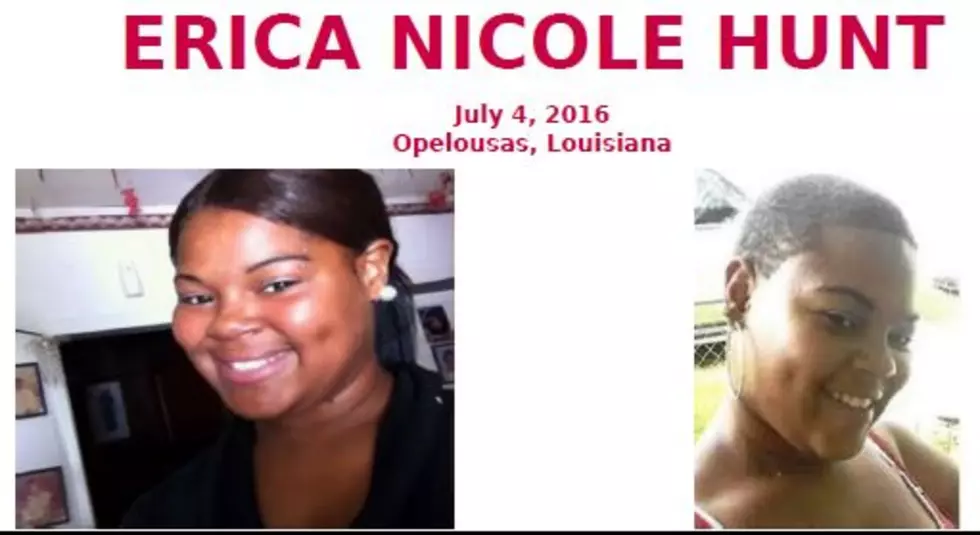 Remains Of Missing Woman Found
Louisiana State Police
Four and a half years ago, an Opelousas woman named Erica Nicole Hunt went missing. Now investigators say that her remains have been found.
Louisiana State Police Troop I spokesman Trooper Thomas Gossen says, via press release, that multiple agencies began working on skeletal remains that were found in Evangeline Parish.
He says that now the remains that were discovered have been positively identified as Erica Nicole Hunt who has been missing since 2016.
Now officials are asking anyone who might know anything about the disappearance and death of Hunt come forward with that information so officials can solve the case.
If you believe you have any information, even the smallest bit of information, you are asked to call the St. Landry Parish Crime Stoppers line. The number is 337-948-TIPS(8477).
There are also a few other ways that you can get information to officials. One way to do that is to give a tip online by visiting the St. Landry Crime Stoppers website. You can click here to access this site.
Another way to help deputies is to give a tip on Facebook via WEBTIP. You can also send information via text message by messaging your information to TIPS625 along with the information to the number 274637 which spells out CRIMES. If you would prefer, you can give information to the Louisiana State Police by clicking here. One there you should look for the tab labeled Suspicious Activity link.
Several agencies teamed up to work on this case in order to identify this woman. One of the agencies that has been working this case is the LSU Faces Lab. With only skeletal remains, this agency, according to their website, uses facial approximations to create a face representation of what the person would look like. That information is then used to identify the person.
Louisiana State Police, the St. Landry Parish Sheriff's Office, the Evangeline Parish Sheriff's Office and the Opelousas Police Department are all hoping that someone will provide information to them so they can solve the mystery into what happened when Hunt disappeared on July 4 of 2016.
More From Talk Radio 960 AM