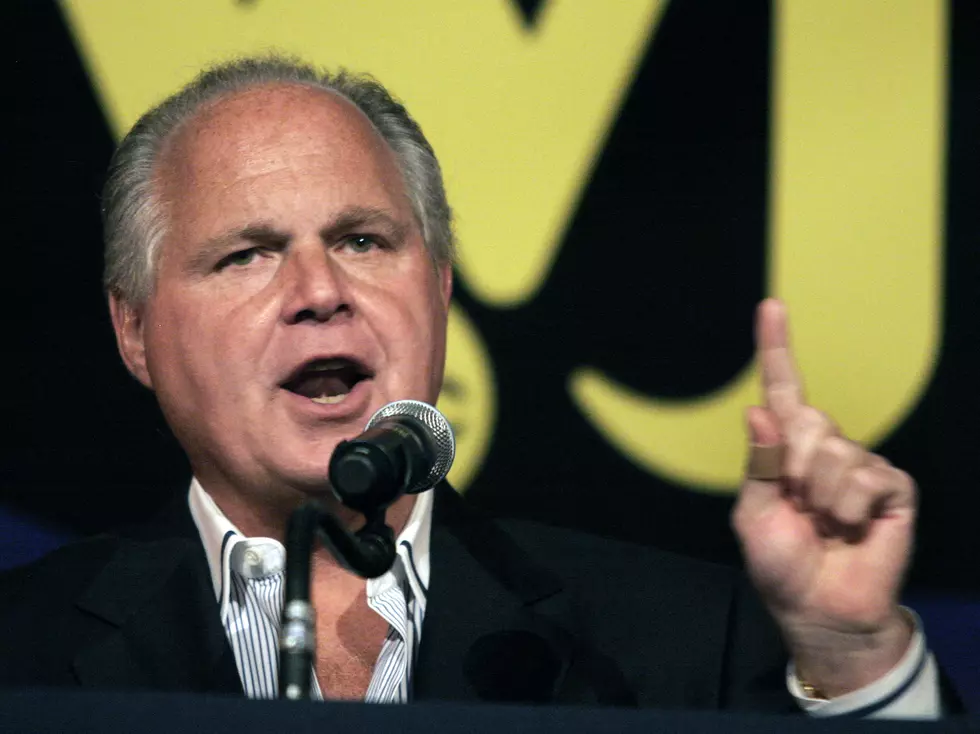 Getty Images
Rush Limbaugh has died at the age of 70 of complications from lung cancer. That announcement was made by his wife, Kathryn, at the very beginning of Wednesday's Rush Limbaugh Show.
It was on February 3, 2020, that Rush made the stunning announcement that he was fighting advanced lung cancer and that he had began treatment. Since then, he has continued to do the show, along with guest hosts who would fill in for him on treatment days or days when he wasn't able to be on the air.
Former President Donald Trump awarded the Radio Hall of Famer the Presidential Medal of Freedom - America's highest civilian honor - during Trump's State of the Union address a few days after Rush's cancer announcement.
The 45th President joined Fox News today with his reaction to Limbaugh's passing. Trump spoke about Limbaugh's fight against cancer, how Kathryn took such great care of Rush, and Limbaugh's support of his presidency.
"He was a fantastic man; a fantastic talent," said Trump about Limbaugh.
The self-proclaimed "America's Anchorman," Limbaugh became known as the voice of Conservatism as he not only spoke about it's philosophy, but supported politicians who embodied it and called out those who didn't, even Republicans. Equally, Limbaugh also despised Liberalism.
What's the difference between a liberal and a conservative? A liberal will interpret the Constitution; a conservative will quote it!

Liberalism is a scourge. It destroys the human spirit. It destroys prosperity. It assigns sameness to everybody. And wherever I find it, I oppose it.
The Rush Limbaugh Show began 33 years ago. As pointed out by Fox News, his nationally-syndicated talk show grew from 56 stations to more than 600, including Newstalk 96.5 FM KPEL.
PHOTOS: Rush Limbaugh Receiving Presidential Medal of Freedom
Rush Limbaugh died Wednesday, Feb. 17 after a lengthy battle with lung cancer.
Limbaugh changed the landscape of talk radio and was honored with the Presidential Medal of Freedom by then-President Donald J. Trump during the State of the Union Address on Feb. 4, 2020
More From Talk Radio 960 AM