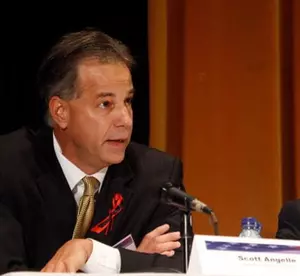 Scott Angelle Takes On Role Within The Trump Administration
(Photo by Chris Graythen/Getty Images)
Public Service Commissioner Scott Angelle has been named the director of the Bureau of Safety and Environmental Enforcement.
UL-Lafayette Police Science Professor Pearson Cross says this is the perfect job for Angelle, coming off a recent loss for Congress. He says Angelle is suited for the position under the Trump administration.
"The Trump administration is looking to roll back regulations so Angelle will be a good point man for the Trump administration in this position."
BSEE is a part of the Department of the Interior and strives for the safe and responsible production of energy and watches over the oil and gas industry. Cross says after losing in the Governor and Congressional elections, there wasn't anywhere else for Angelle to go politically in Louisiana. He says this job gives him more national name recognition.
"This kind of restarts him a little bit, gives him a national profile, it's a position in which he can be very proactive and take the lead in a number of ways and I think it's well suited to him."
Angelle's first day as the BSEE director is Tuesday and he will be forced to resign as a public service commissioner. Cross says he anticipates a lot of candidates to run for this open PSC position.
"And that's why those seats, even though they don't pay much, they're pretty low profile. They still are very coveted by those who are looking to move up in the state hierarchy."
More From Talk Radio 960 AM