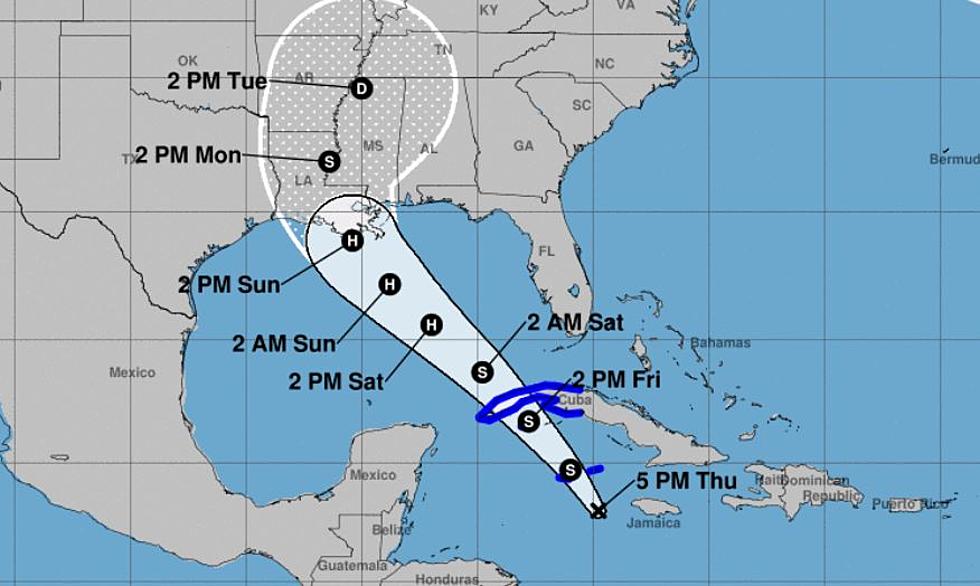 Soon-to-be-Hurricane Ida: What's Behind the Name?
Ida via NOAA
There are a few names that stick out around these parts: Katrina, Laura, Ike, Rita, Camille, Delta, and they all have something in common.
Y'ALL HAVIN' A PARTY?
Hurricanes are just a part of life here in South Louisiana and, as much as we think we are used to them, they are getting more severe, so I'll say this early on: listen to the experts. If you are advised to seek shelter, do it early. If they say to evacuate, be ready. Have a plan. Have a kit. Have a cool head about you.
WHAT'S HAPPENING RIGHT NOW?
With that being said, tropical depression #9 has strengthened into Tropical Storm Ida, and it is expected to not only strengthen into a hurricane but it is also expected to pass by for a visit. Let's hope it's a gentle visit and Ida doesn't decide to stick around long enough to snoop through the medicine cabinet.
Oh, about Ida - here is the latest:
THE ORIGINS OF THE NAME IDA
Now, about that name: Ida. I did some lookin' on the interwebz about the origins of the name, and here's what I found on the Wikipedia.
Before we begin, I suggest you grab a grain of salt (I mean, it is Wikipedia).
Ida is, according to Wiki, of Germanic origins. "Id" means labor or work (Germanic), and the name "Ida" means prosperous or industrious.
SPRICHST DU DEUTSCH?
The name appears to be very popular in Denmark, making the Top 20 list of girl's names for the year 2019 and in Sweden, making its Top 20 in 2013. It is also popular in Finland and, at one time way back in the 1800s through 1930, was popular in the United States (though I did attend Henry High School with a girl named Ida in the early 1980s). In the US, the name Ida the name is thought to mean "God-Like", according to the Wiki article.
BUT FIRST, THE LADY
The United States, at one time, had a First Lady named Ida. Ida Saxton McKinley was the wife of 25, President William McKinley. Let's hope Ida doesn't also become a famous hurricane.
LET'S HOPE FOR THE BEST, BUT PREP FOR THE WORST
Now that we know THIS much about Ida, let's hope we don't need to know much more. Let's hope that Ida just goes about her business and leaves us the heck alone. ESPECIALLY our friends over in Calcasieu!
But, in case Ida decides to barrel down on us, we need to be prepared: have a kit, have a plan, and have a brain!
20 Items You Need to Have in Your 'Hurricane Box' This Year
LIST: 10 Deadliest Louisiana Hurricanes
Six Things A Cajun Needs To Survive A Storm
Hurricane Game Plan, How We Get Ready at My House
Aerial Pictures of Southwest Louisiana Before & After Hurricane Laura
Things You Want or Need After Surviving A Hurricane
Prevent Hurricane Anxiety By Prepping Now
More From Talk Radio 960 AM