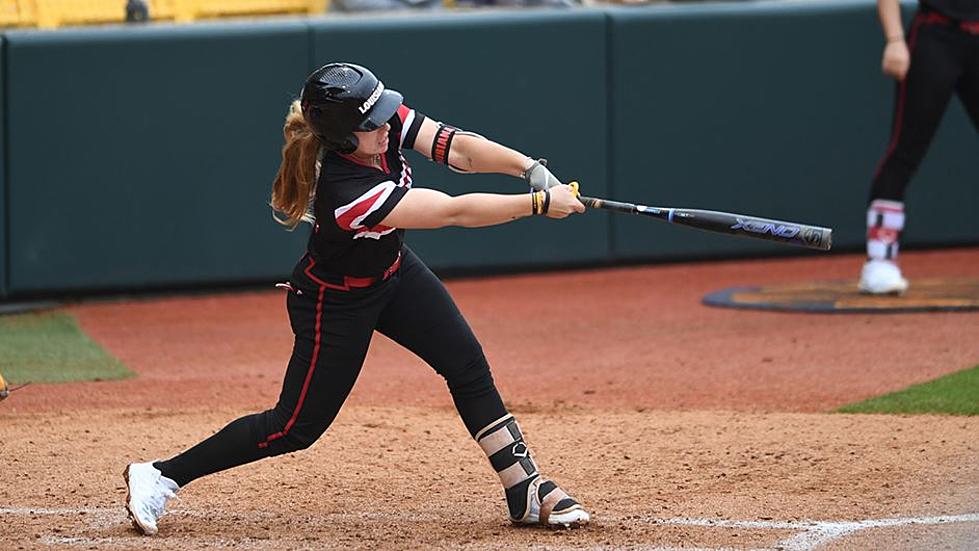 UL Softball Sweeps South Alabama to Claim 1st Place in the Sun Belt
Photo courtesy of UL Athletics
Louisiana Ragin' Cajun softball sits alone atop the Sun Belt Conference standings after wrapping up a sweep at South Alabama on Friday.
Due to Saturday's forecast in Mobile, the Cajuns and Jaguars played a doubleheader Saturday, with UL winning each game.
With the victories, Louisiana improves to 29-10 overall and 15-3 in league play, while South Alabama falls to 16-17 overall and 9-4 in Sun Belt competition.
The first win Friday also gave the Cajuns their 70th consecutive Sun Belt Conference series win.
The Cajuns only scored in two innings, earning two in the 3rd and five in the 5th to put the game on ice.
Game two proved more difficult, as Louisiana trailed 1-0 entering the 6th, but taking the lead with 2 runs, the first off a Samantha Graeter solo homerun on an 0-2 pitch, and the second from Kayla Falterman, who scored on Maddie Hayden's RBI fielder's choice.
Next up, Louisiana will play at St. Louis on Monday at 5:00 pm.
Listen to the call on ESPN Lafayette (103.3. FM, 1420 AM), ESPNLafayette.com and the ESPN Lafayette app. Pregame begins at 4:45.
25 of Brad Kemp's Favorite Ragin' Cajun Sports Photographs
What Louisiana People Really Want for Easter
Ten Great Easter Basket Stuffers That's Not Candy
More From Talk Radio 960 AM