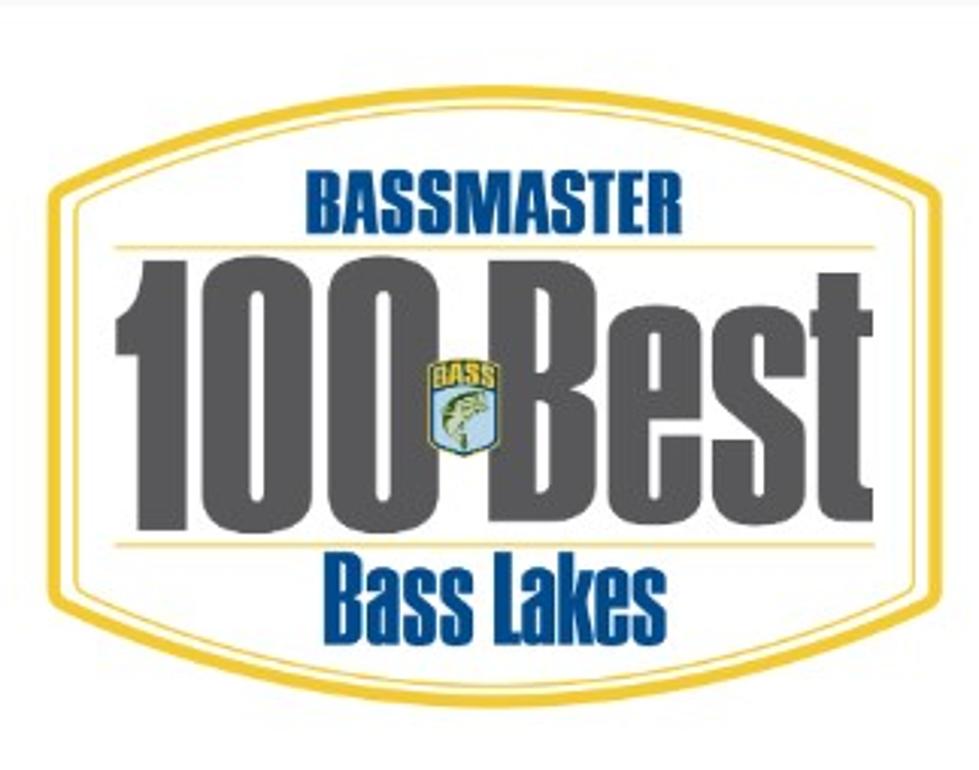 10 Texas Lakes Make BASS List Of Best In America
Bassmaster Publicity Photo
Truth be told, when it comes to bass fishing here in the Arklatex, we are a little spoiled. And rightfully so!
We have proven again that the finest bass fishing in the entire United States is right here in our backyard, or lakefront as it were.
Though Texas leads the charge again this year with an impressive total of ten lakes to make the nation's Top 100, including the overall #1 which was O.H. Ivie near San Angelo, Texas, the Bayou State once again was pretty impressive as well.
With this week's release of Bassmaster Magazine's Top Ten Bass Lakes of 2023 and the other top finishers from each of the four specific regions including the Central region in which Texas and Louisiana are included, it doesn't take a rocket scientist to see that we have our "unfair" share of incredible bass fishing all around us.
Apparently Things Really Are Bigger In Texas; Even The Bass
Just consider that with ten lakes making the nation's Top 100, a full ten percent of all the best bass fishing in America is in Texas; just staggering.
But the Bayou State also made another impressive showing this year with five Louisiana or Louisiana/Texas border lakes all showing up on the BASS radar!
In a press release from Bassmaster Magazine Editor-in Chief James Hall, we learn that this annual ranking takes a lot of work to compile.
"We are always a little surprised when going through the data how many fisheries make the rankings and then fall off, as well as by those lakes that just always make the list."  "Creating the rankings takes more than two months as we dig through current tournament data as well as state fishery information on stocking efforts, catch rates and angler access.

"While the fisheries may change, our goal is to point anglers toward the most productive waters so that their time is spent with rod bent. These rankings provide a bucket list of destinations for anglers."

 
The rankings identify the top lakes in the nation based on head-to-head comparisons, as well as the Top 25 lakes in four geographical regions — Central, Western, Southeastern and Northeastern.
Bassmaster Magazine's Top 10 Best Bass Lakes of 2023
O.H. Ivie Lake, Texas
St. Lawrence River (1000 Islands), New York
Clear Lake, California
Lake Murray, South Carolina
Toledo Bend, Louisiana/Texas
Fellsmere Reservoir/Stick Marsh/Kenansville Lake, Florida
Lake St. Clair, Michigan
Orange Lake, Florida
Lake Erie/Upper Niagara River, New York
Lake Okeechobee, Florida
Best Bass Lakes – Central Division
O.H. Ivie Lake, Texas
Toledo Bend, Louisiana/Texas
Lake Fork, Texas
Possum Kingdom Lake, Texas
Caney Creek Reservoir, Louisiana
Bussey Brake Reservoir, Louisiana
Mille Lacs, Minnesota
Sam Rayburn Reservoir, Texas
Grand Lake O' The Cherokees, Oklahoma
West Okoboji Lake, Iowa
Caddo Lake, Louisiana/Texas
Lake Eufaula, Oklahoma
Lake of the Arbuckles/Arbuckle Lake, Oklahoma
Lake of the Ozarks, Missouri
Lake Falcon, Texas
Lake Oahe, South Dakota
Lake Nacogdoches, Texas
Bull Shoals, Arkansas/Missouri
Lake Conroe, Texas
Table Rock Lake, Missouri
Upper Mississippi River, Wisconsin
Lake Hudson, Oklahoma
Lake Bistineau, Louisiana
Newton Lake, Illinois
Lake Texoma, Oklahoma/Texas
Full rankings can be found in the July/August issue of Bassmaster Magazine and on Bassmaster.com.
The 9 Best NATURAL Lazy Rivers in Texas in Which to Cool the Hell Off
If you're interested in tubing, swimming, or just sitting on the bank and listening to the water flow by, you'll find a great Texas river destination here.
10 Things People Say When They Hear You're From Louisiana
Being a resident of Louisiana has a ton of benefits, but one of the drawbacks is the questions you get when another person from outside the state finds out where you're from. Take a look at the top things people say when you tell them where you're form.
More From Talk Radio 960 AM