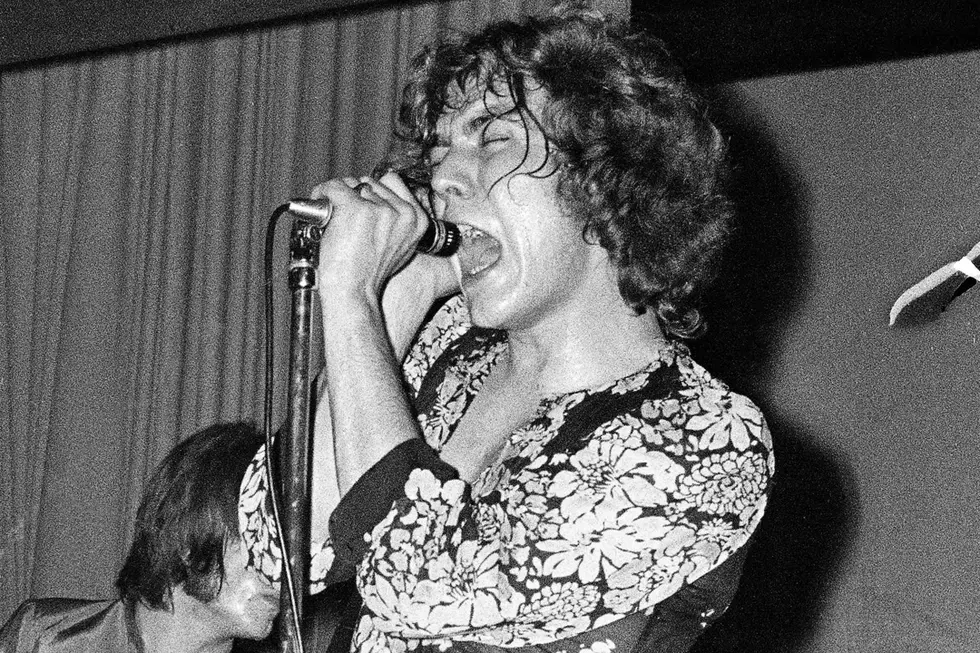 55 Years Ago: The First Led Zeppelin Show
Jorgen Angel, Getty Images
Led Zeppelin officially became Led Zeppelin on Nov. 9, 1968, at the Roundhouse in London. The band had been up and running for only a couple of months, playing a smattering of gigs throughout Denmark and Sweden before finally hitting the U.K. – but with a different name.
Jimmy Page rebuilt the group after the Yardbirds fell apart around him, and they'd played the Marquee Club on Oct. 18 while still flying under that banner. Some promotional material for an Oct. 25, 1968, performance at the University of Surrey in Battersea still listed the group as the New Yardbirds.
Led Zeppelin left the Yardbirds behind for good at the Roundhouse show, with a poster noting that they are "now known as Led Zeppelin." Tyres was among the opening acts on a bill that also included co-headliner John Lee Hooker.
READ MORE: Ranking Every Led Zeppelin Album
Like most of the band's earliest live dates, this debut performance was still made up of Yardbirds holdovers like "Train Kept a Rollin,'" "Dazed and Confused" and "White Summer," as well as a few tracks that would end up on their debut LP in early 1969 – including "Babe I'm Gonna Leave You," "You Shook Me" and "How Many More Times." They didn't go on until 2AM.
"It was an exciting time, and just before Zeppelin headed to the States," Tyres guitarist Rafael de Swarte later remembered. "John Lee Hooker was hanging around backstage watching."
Robert Plant Got Married Earlier That Day
Their debut show isn't the only reason this date looms large in Led Zeppelin history. Robert Plant also married his girlfriend, Maureen Wilson, earlier in the day. The couple had three children – including son Karac, who died tragically in 1977. They divorced in 1983.
The Roundhouse wasn't exactly Madison Square Garden, where Led Zeppelin would later record 1976's The Song Remains the Same. "I controlled the level of the PA from an amplifier that sat in front of the bass drum," Plant recalled on In the Studio. Led Zeppelin raked in a mere £150 for the performance, a figure that would escalate significantly in a few months.
"We did alright," Page later admitted. "We only played a couple of dates in London – the Roundhouse and Marquee. The Marquee was fantastic, just great. We were totally knocked out when we came out of there. We thought they might have had it in for us because at the that date, we were still calling ourselves the Yardbirds. We hadn't thought of using Led Zeppelin yet."
Plant made a memorable return to the Roundhouse in 2014 while touring in support of Lullaby and the Ceaseless Roar, playing consecutive nights. He included Led Zeppelin favorites like "Whole Lotta Love," "Black Dog" and "Going to California," as well as the Howlin' Wolf favorite "Spoonful."
"It feels like home," Plant told the crowd, before making a joke about his advanced age: "Time really moves on. It's just short of 46 years since I first played here," he said. "I don't like giving my age away like that. I'm not like Tom Jones, who loves telling people how old he is: 'Really, Tom?' I think that should be kept under your hat. Or under your helmet, at least."
Classic Rock Artists Who (Allegedly) Ripped Somebody Off
These thefts have been described as a form of tribute or as an accident of creation. Whatever you call it, this form of borrowing is far from infrequent.
Gallery Credit: Nick DeRiso
Why Led Zeppelin Won't Reunite Again
More From Talk Radio 960 AM