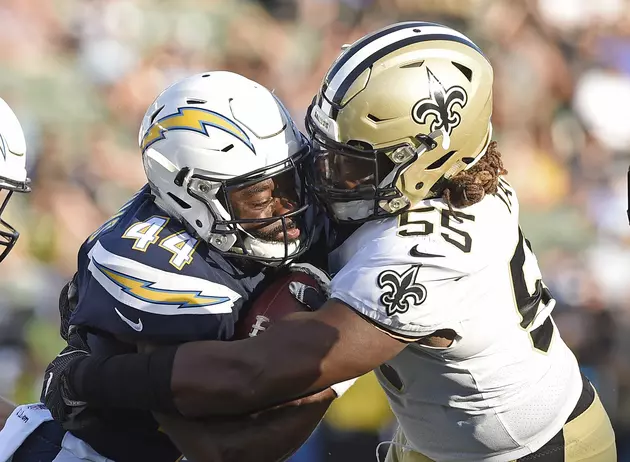 5 Positives/5 Negatives From Saints' Win Over Chargers
(Photo by Kevork Djansezian/Getty Images)
The New Orleans Saints were victorious in preseason action on Sunday night, defeating the Los Angeles Chargers, 13-7, at StubHub Center in Carson, California.
The win snapped a 10-game preseason losing streak for the Saints, which dated back to 2014.
It is the preseason, so you have to make sure you don't overanalyze things, or be quick to jump to conclusions. After all, the Saints once again played without their best offensive player, quarterback Drew Brees, their best defensive player, Cam Jordan, and their first pick from the 2017 NFL Draft, Marshon Lattimore.
That being said, let's take a look at five positives to take away from the game, as well as five negatives.
1)—Defense:  This one is pretty easy. The Saints held the Chargers to 158 total yards, while compiling 8 quarterback sacks, and an amazing 13 tackles for losses. Can statistics in the preseason be misleading? Sure. But this is fun to see. After all, the Saints had 30 quarterback sacks all of last season. Through two preseason games this year, they have 13. The first team defense was outstanding, holding the Chargers to 6 yards on their first 7 plays, and only 31 yards in the opening quarter.
2)—Linebackers: The biggest reason the Saints' defense was so good on Sunday night was their linebacking unit. Manti Te'o, A.J. Klein, and Craig Robertson were tremendous, combining for 21 tackles, including 14 solo stops, to go along with 2.5 sacks, 5 tackles for losses, and a fumble recovery. Just a sparkling effort by this trio.
3)—Alvin Kamara: The rookie out of Tennessee paced the Saints in rushing for a second-consecutive game, with 61 yards on 5 carries. And for the second-straight week, Kamara showed off his big-play ability, breaking loose for a 50-yard touchdown run. He also showed off his versatility, with a 22-yard reception and an 11-yard punt return. Sean Payton really liked Kamara heading into the draft, and it looks like he was spot on.
4)—Alex Okafor: I think it's safe to say Okafor has nailed down the starting spot at right defensive end. He's had a good camp, and he was solid in about a quarter-and-a-half of action on Sunday night, with two tackles for a loss, a sack, and a quarterback hit. He may be a great compliment for Cam Jordan.
5)—Chris Banjo: Yes, Banjo was good, accumulating 5 tackles, which ranked 4th on the team, but it's how he got those 5 tackles. His value is in the special teams department, and he had three tackles on special teams, including an 11-yard tackle for a loss, along with an assist, in the first half alone. If Banjo plays the final two preseason games anywhere near the level he played at on Sunday night, the Saints won't have any choice but to keep him on the roster.
1)—Quarterbacks: Playing with out Drew Brees, the Saints didn't get much production from their signal-callers, with Chase Daniel and Ryan Nassib combining to go 13-of-27 for 108 yards. Nassib struggled the most, completing only 6-of-15 passes, while also having an interception returned 99 yards for a score.
2)—Damian Swann: I like Swann. I've liked Swann, dating back to his days at Georgia. But the Saints have a lot of numbers at cornerback, and he just hasn't been able to stay on the field over his first two seasons, being limited to only 7 games in 2015, due to three concussions, while missing all of last season. Swann needs to play really well, but that has not been the case over the first two preseason games. Sunday night, he was flagged for pass interference, before getting beat on a 17-yard pass reception on the very next play. Swann's chances of making the team are diminishing every week.
3)—Marshon Lattimore: He didn't play much, after tweaking a knee in practice prior to last week's preseason opener. He did play, and that was good, but you'd just like to see more of the Saints' first draft pick in action at cornerback.
4)—Stephone Anthony: There's no guarantee that Anthony, a first round pick in the 2015 NFL Draft, is even going to make the roster this year. He didn't practice all week, and he didn't play on Sunday night, while most of the other linebackers stood out. With Te'o, Klein, Robertson, Alex Anzalone, and Nate Stupar at linebacker, Anthony is going to have to show something in the preseason, So far, he hasn't.
5)—Offensive Tackles: The Saints are going to miss Terron Armstead for about half the year, and that showed on Sunday night. Ryan Ramczyk helped spring Kamara free on his 5-yard run with a nice block, but he also got beat, forcing him to commit two holding penalties. But he's a rookie left tackle; expect growing pains. The veterans that the Saints have on their roster, namely Khalif Barnes and Bryce Harris, were disappointing. Barnes is not capitalizing on  great opportunity late in his career, and Harris was flagged twice for holding. It's almost silly for a fan, such as myself, to rate offensive linemen. That being said, other than possible exception of Zach Strief, the tackles need to show improvement from their play on Sunday night..
More From Talk Radio 960 AM