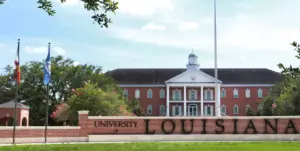 $9.7-million Awarded to ULL Consortium To Study Tuscaloosa Marine Shale
UL-Lafayette-Martibn-Hall-linkedIn.com-photo
A 9.7 million dollar grant was awarded to a UL Lafayette consortium to study the Tuscaloosa Marine Shale oil deposit that stretches across central Louisiana into the Florida parishes.
A study from the 80s indicated Louisiana could be sitting on nearly seven billion barrels of crude oil. ULL Professor Mehdi Mokhtari says the grant will help scientists unlock the shale's potential.
"This will help us make the formation more cost efficient, and understand better how to produce from this formation in a cost efficient and environmentally sound way."
The consortium will be comprised of scientists, academics, and oil industry professionals from across the nation. Moktari says the consortium could raise the prestige of the University of Louisiana system.
"It will bring a lot of opportunities for the University of Louisiana higher education system, to be a leading institute among very prestigious universities."
The Eagle Ford Shale in Texas is responsible for about 100,000 jobs in that state. Moktari says unlocking the shale could be a big boost to the bayou state's economy…
"It can create a lot of jobs, it can bring a lot of oil and gas companies to these communities. It has a lot of benefit to the state."
38 percent of the grant came from the US Department of Energy, the rest was provided by the oil industry.
More From Talk Radio 960 AM