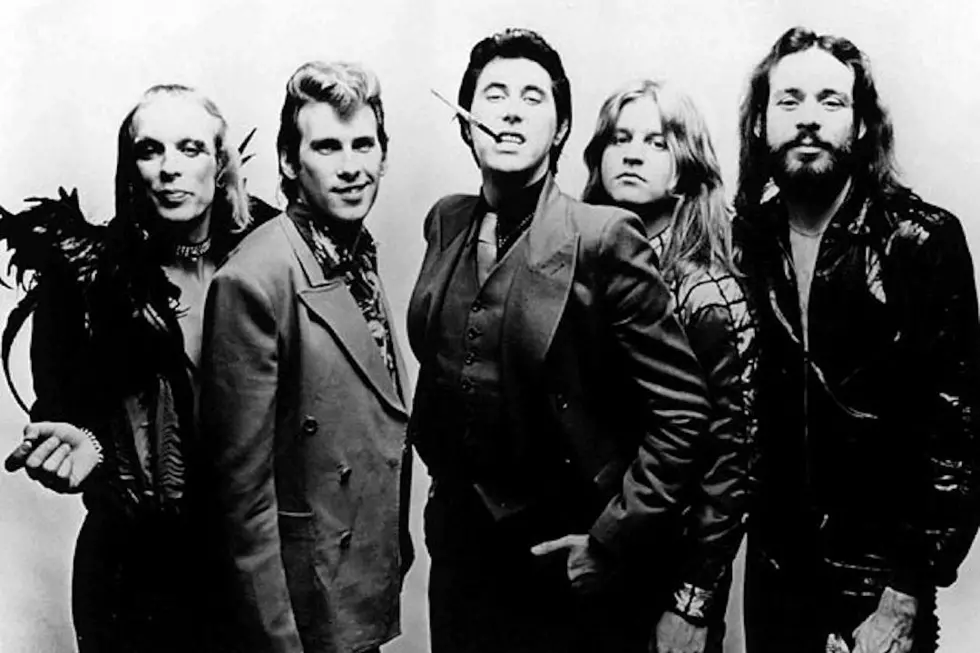 The Day Brian Eno Left Roxy Music
Virgin Records
The enigmatic Brian Eno waved goodbye to his bandmates in Roxy Music on July 2, 1973.
"It's very hard to know just how honest I should be about the reasons for my demise from Roxy," Eno told Melody Maker at the time. "The problem is that when it gets printed, it all seems to look much more meaningful and serious when unqualified by that chuckle at the back of the throat. I started off by wanting to call a press conference so that I could state my case, but that's all so pointless.
"Another reason for my reticence," Eno added, "is because I don't want to damage Roxy for the sake of the other people in it. I mean, I really like the other members, and I really like Bryan [Ferry], in a funny way."
There was always a friendly rivalry between Eno and Ferry – from who could steal the spotlight onstage to who could get the most girls backstage. It basically came down to Ferry's natural stage presence fighting it out with Eno's outlandish wardrobe and sonic delights.
Some of the friction was due to the band's managers, who encouraged Ferry to take center stage. "He was pushed to do it by the management," guitarist Phil Manzanera told writer David Buckley in the Roxy Music bio The Thrill of It All. "I remember the first time we did Top of the Pops and Eno being terribly upset because the only thing you saw of Eno is his glove, which was a terrible waste."
Watch Brian Eno Perform 'Ladytron' With Roxy Music

When it came down to it, Roxy Music was primarily Ferry's project. He wrote the bulk of the material and shaped the band's vision. But fans and critics loved Eno, who was more personable and gave better interviews. "I didn't really like the interview process," Ferry said in Buckley's bio. "I used to be really tongue-tied. Brian, of course, had confidence in spades."
Eno added: "It was a typical clash of young male egos. What had happened was that because I was visually so bizarre looking, I got a lot of press attention. I made good photographs. That distorted the impression of where the creative leadership of the band was. It was definitely Bryan's band."
Roxy Music played one last gig with Eno in early summer 1973 at the York Festival. Overzealous Eno fans began shouting over Ferry's singing, which prompted Eno to leave the stage in an attempt to diffuse the situation. Ferry refused to confront Eno about the incident and, eventually, Eno decided to leave the group.
"I was pissed off at the subterfuge and wanted Bryan to actually say it to my face," Eno argued, "but he didn't. So eventually I just said, 'Okay fuck it, I'm leaving.'" The band officially announced his departure a few weeks later on July 21, 1973 in Melody Maker.
Eno's spot in the band was quickly filled by Curved Air's Eddie Jobson, whose use of violin added another texture to the band. Meanwhile, Eno rebounded by recording his first solo album – the classic Here Come the Warm Jets – as well as No Pussyfooting, a collaboration with King Crimson's Robert Fripp.
Roxy Music and Bryan Ferry Albums Ranked
In a way, the band and its singer are inseparable, even though they've taken slightly different career paths.
More From Talk Radio 960 AM