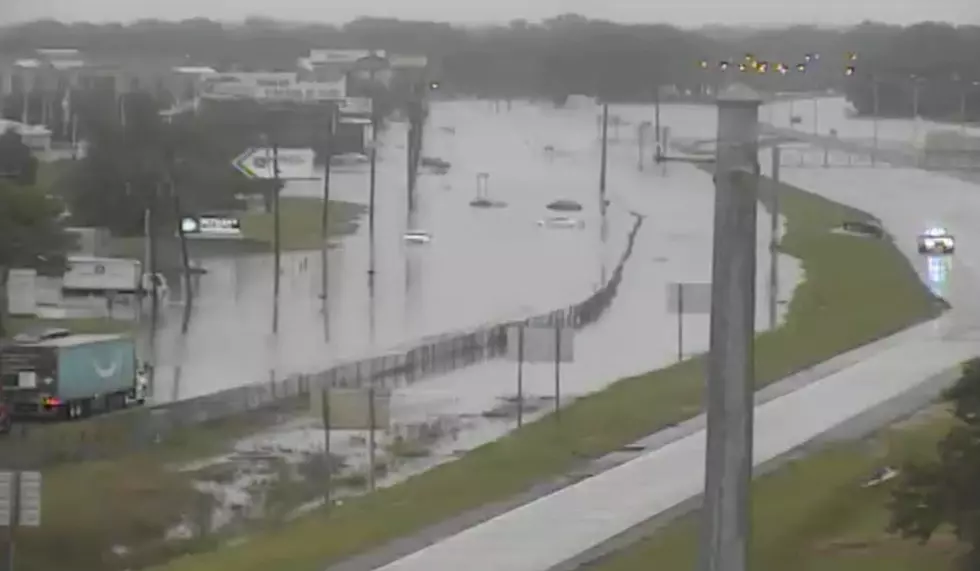 Cassidy, Higgins, & Kennedy Fighting for Louisiana Flood Victims
Twitter, DOTD
On Monday, May 17, weather that's usually seen during hurricane season came early as flooding rains drenched the Louisiana coast - all the way from Lake Charles to New Orleans, and the Acadiana parishes in between.
I remember looking at the forecast the Sunday before, noting 40% rain chances for Lake Charles on that Monday morning. It was enough to decide against heading west with my wife for a one night getaway. Waking up the next morning, I did not expect to see the terrifying images that began to make their way across the news world as the inclement weather battered an area that had already felt the wrath of Hurricanes Laura and Delta just a few months ago.
Then, once the rains pounded Lake Charles, the front continued moving east, causing devastating flooding along its path over the course of four days. As U.S. Congressman Clay Higgins noted, it "resulted in the loss of several lives and immense property damage."
Higgins, the 3rd Congressional District representative, has been one of three lawmakers representing Louisiana to advocate for their state since then. Higgins, for example, made that comment in a letter to President Joe Biden as he urged the President to approve Louisiana's major disaster declaration request  in response to the severe weather event and for Biden to issue a request to Congress for supplemental disaster assistance in response to the hurricanes mentioned earlier.
"The damage caused by this storm will have long-lasting effects on the people of Louisiana who were already struggling from the aftermath of Hurricanes Laura, Delta, Zeta, and the 2021 Winter Weather event," Congressman Higgins wrote. "Louisiana is desperate for these additional federal resources after a horrific 2020 hurricane season devastated portions of the state. It is beyond time to act."
Over the Memorial Day Weekend, Higgins announced that $50 million was included in the U.S. Army Corps of Engineers FY 22 Civil Works Budget for spot dredging the Vermilion River. This was on top of local funding approved by the Lafayette City Council to address flooding issues in Lafayette.
"The inclusion of Vermilion River dredging funds in the Corps' budget is a significant milestone," said Higgins in a statement. "Since coming to Congress, we have listened very carefully to stakeholders in both Lafayette and Vermilion parishes on this issue. We sought to move forward based on objective truth and grounded in extensive scientific modeling. The preliminary findings from the H&H analysis.showed that dredging the Vermilion River would not have a major impact on water flow, but it would allow the river to retain more water. Using that data, we've worked with the Corps' to prioritize federal investments for spot dredging. Deepening the river at key points will provide greater water retention capacity for the region and help mitigate flood threats. This funding, if fully realized in the Corps' Work Plan, would be a major win. My office will continue to work with our local, state, and federal partners to provide water management solutions for South Louisiana."
Flood prevention through dredging of the Vermilion River is something that has been a priority for Higgins and his office as they point out the Congressman's multiple meetings with local citizens, advocates for Dredge the Vermilion, and elected officials from Lafayette and Vermilion parishes. Below is a brief timeline of important steps taken during the process, as provided by Higgins' office:
On February 20, 2020, Congressman Higgins met with the U.S. Army Corps of Engineers, Acadiana Planning Commission, local elected officials, and the Louisiana Watershed Initiative (LWI) Task Force to review findings from the H&H analysis.
On February 21, 2020, Congressman Higgins and the U.S. Army Corps of Engineers publicly released preliminary findings from the H&H analysis.
In November 2020, the U.S. Army Corps and the University of Louisiana at Lafayette published the final H&H analysis.
Also, FEMA announced a $6.2 million grant last week to Lafayette Parish for flood projects. It was news that Senator John Kennedy, a member of the Senate Appropriations Committee, was pleased to bring to his constituents.
"The recent flooding in Louisiana reminds us how important investing in elevation projects is for our state," said Kennedy as he noted FEMA funding will go towards structure elevation and acquisition not only in Lafayette Parish but additional funding for St. Tammany Parish as well. "I am grateful that FEMA is fully funding these improvements."
Kennedy also supports supplemental disaster assistance in response to the hurricanes. Below is a timeline of action taken for that by Kennedy, as provided by his office:
"After Hurricanes Laura and Delta and flooding from this historic rainfall, neighbors are again helping neighbors," said Kennedy when he toured flood damaged areas in Lake Charles and Lafayette Parish. "But they still need help. I would support a presidential disaster declaration in the wake of these floods. Now, it's time for the White House to show our people they're not alone and move on getting supplemental disaster relief to Louisianians on the ground.
"The most important things in life aren't things—they're people. The men and women of south Louisiana are again proving that Louisiana can pull through anything as long as we're pulling together. It was an honor to visit their communities and hear their stories of strength."
U.S. Senator Bill Cassidy also came down to Louisiana - specifically to Calcasieu Parish - to meet with local and McNeese State University leaders to tour the damage from all of the weather events since Hurricane Laura ravaged the area, as well as to listen to University President Dr. Daryl V. Burckel lay out what the school needs to fully recover from the storms.
"McNeese State's commitment to students and community is so important to Calcasieu Parish recovering," said Dr. Cassidy. "I thank them for this and will continue to work to aid McNeese and the recovery."
On Capitol Hill, Cassidy is working with Colorado Senator Michael Bennet as they reintroduced the Shelter Act to help Americans protect their homes or businesses against natural disasters like what happened the week of May 17th. What their legislation seeks to do is create a disaster mitigation tax credit for working families and small business owners in disaster-prone areas.
"The best way to recover from a flood is never flooding at all," said Dr. Cassidy. "Every family or business owner can reduce their property's chance of flooding. This legislation empowers them to do so."
"While Americans can receive federal tax relief following a disaster to help recoup their losses, there isn't an incentive to prepare for future threats," said Bennet. "Our bill would change that by encouraging taxpayers to invest in measures that increase resilience and safeguard their homes and businesses, helping to defend properties and save lives."
FEMA was mentioned earlier for its $6.2 million flood mitigation grant, but the agency also just announced plans to raise flood insurance on Louisianans by implementing Risk Rating 2.0. This includes rate increases for those hit by Hurricanes Laura and Delta, according to Cassidy.
"FEMA's decision will harm Louisiana's recovery," said Cassidy in a press release. "We are working with FEMA to prevent any excessive premium hikes."
The release from Cassidy's office says the Risk Rating 2.0 "uses a counterproductive approach of targeting homes outside of flood zones with higher insurance premium increases...instead of focusing on mitigation to elevate those trapped in the cycle of flooding and high premiums."
This is an issue Cassidy addressed last Congress when he introduced bipartisan legislation to reauthorize and reform NFIP (National Flood Insurance Program). He says this bill included provisions to ensure no steep rate hikes from Risk Rating 2.0, which he points out increases premiums for 80 percent of Louisiana policyholders – some by hundreds of dollars annually. Cassidy says this legislation would protect policyholders from those premium hikes by capping annual increases at nine percent, helping some homeowners avoid being forced to drop coverage or lose their homes.
BELOW are pictures from recent visits to Louisiana made by Higgins, Kennedy, and Cassidy following the flooding.
Elected Officials Higgins, Kennedy, and Cassidy Visit Louisiana Constituents Impacted by Recent Flooding
More From Talk Radio 960 AM