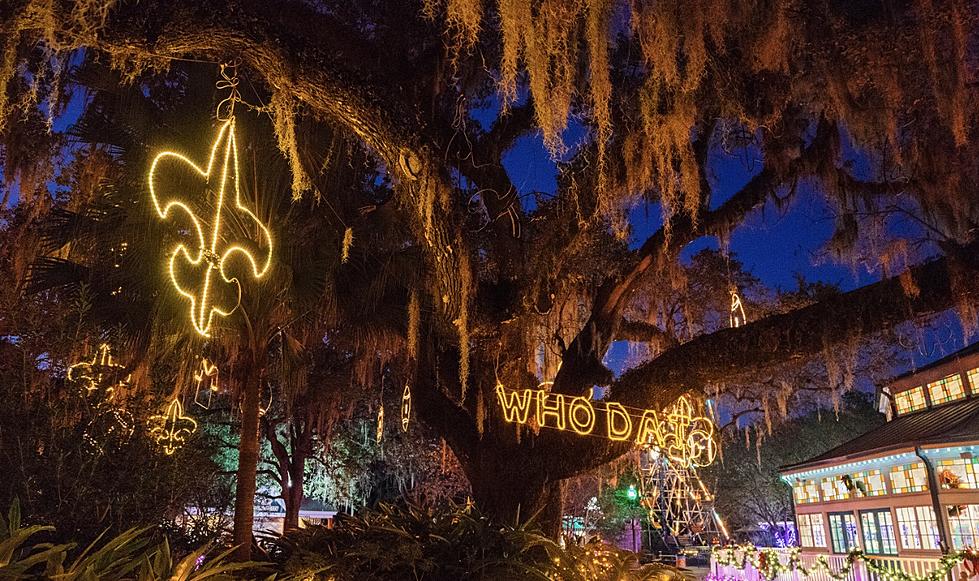 The Ultimate Louisiana Christmas Lights Road Trip
Christmas in the Oaks
Are you prepared to immerse yourself in a Louisiana holiday spectacle like never before?
Prepare to be dazzled as we unveil a Christmas lights road trip that promises to create unforgettable memories. Onlyinyourstate.com curated a breathtaking journey encompassing six remarkable displays across the state, each radiating its unique charm and holiday spirit.
So, fuel up your car, mark your calendar, and set aside ample time, because this road trip calls for a few days of festive fun.
The Louisiana Christmas Lights Road Trip
1. Festival of Lights, Natchitoches
Front Street and Rue Beauport, Natchitoches
The Natchitoches Christmas Festival stands out as a highly renowned event across the nation, bedecking downtown with over 300,000 twinkling lights. Commencing on November 19th and enchanting visitors until December 31st, this festive celebration is a must-visit spot for families seeking delightful Christmas lights in Louisiana this year. It's an immersive, family-friendly experience that promises to leave a lasting impression of holiday joy and wonder.
2. Holiday Lights Safari at the Alexandria Zoo
3016 Masonic Dr, Alexandria, LA 71301, USA
The zoo transforms into a mesmerizing wonderland, consistently hailed as hosting Louisiana's finest Christmas lights. Once you experience its charm, expect to be captivated and find it hard to bid adieu. It's an enchanting affair that captures hearts, leaving visitors utterly smitten – and yes, we can totally relate!
3. Noel Acadien au Village, Acadian Village
200 Greenleaf Dr, Lafayette, LA 70506, USA
During the festive season, LARC's historic village undergoes a breathtaking transformation with the illumination of over five hundred thousand lights. This enchanting spectacle includes carnival rides and a brilliantly lit chapel, enhancing the magical ambiance.
4.  Hohensee Family Christmas Lights
12625 Sullivan Rd, Baton Rouge, LA 70818, USA
Every year, this family pulls out all the stops, treating everyone to a vibrant soundtrack paired with an incredible showcase of dazzling lights. Make sure to stay updated by checking the official event page for this spectacular neighborhood Christmas lights display.
5. Lutcher Festival of the Bonfires
Louisiana 3193, LA-3193, Lutcher, LA 70071, USA
From December 9th to 11th, 2022, the traditional festival of bonfires will grace the Mississippi River levee, illuminating pyres that guide Papa Noel's way. This yearly Christmas festival in Louisiana is an irresistible enchantment that fills us with pure magic!
6. Celebration in the Oaks
1 Palm Dr, New Orleans, LA 70124, USA
Over time, this yearly light exhibition has evolved into one of the nation's grandest, showcasing vast decorations adorning the magnificent oak trees. Additionally, it presents a charming array of community-crafted Christmas trees, each exuding immense cuteness. There's truly no better manner to rejoice in the holiday spirit than by indulging in this delightful Louisiana tradition year after year.
The Most Expensive Home for Sale in New Iberia, Louisiana
Step into a world of elegance and luxury in New Iberia's most expensive home, a true masterpiece of design and comfort.
Gallery Credit: Sydney DuCharme