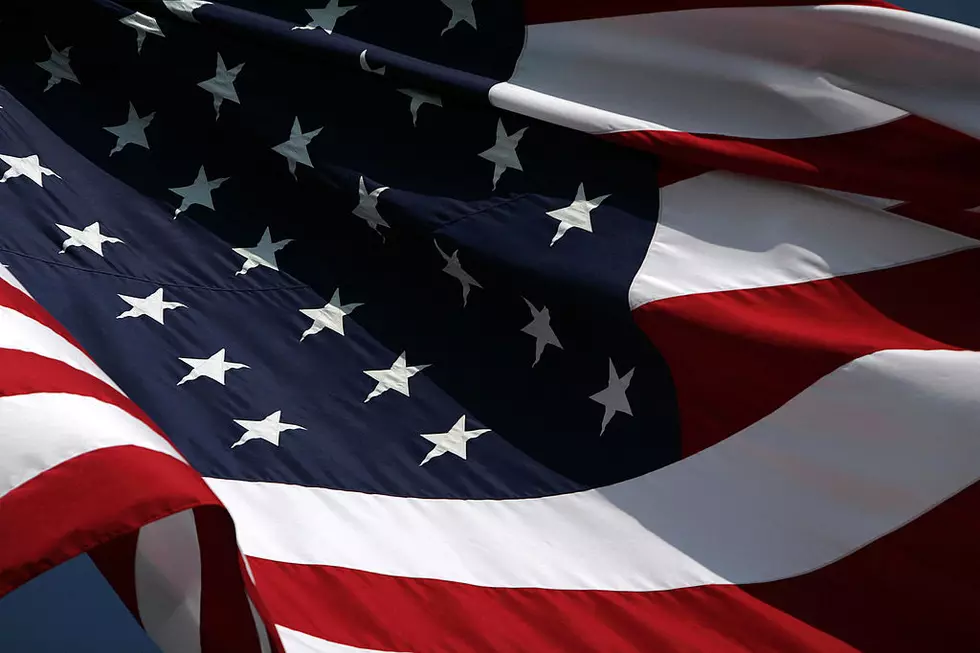 St. Louis Cardinals Pitcher Adam Wainwright Delivers The National Anthem on MLB Opening Day
(Photo by Ronald Martinez/Getty Images)
ST. LOUIS, Mo. (KPEL News) - The "Star-Spangled Banner," our U.S. National Anthem is one of the most celebrated songs one can sing.
It's taken Chris Stapleton's career to the next level after his unique version of it that he performed during the Super Bowl.
In the days leading up to Stapleton's performance at Super Bowl LVII, Mickey Guyton — who performed the anthem at the 2022 game — cheered her fellow country star on on social media, adding, "don't forget to breathe." That was great advice because the song is also one of the most challenging one can sing. It can make even the best singers struggle if they lose a grip on navigating through the highs and lows of the lyrics.
How long it takes someone to sing the National Anthem is something to notice as well.
"If played/sung at the proper tempo, it should take 1:15 to 1:20 to perform the National Anthem," says Ian Auzenne, play-by-play sports announcer and former host of Acadiana's Morning News. While on AMN, Ian sang the National Anthem on the show when the computer had a glitch, stepping in rather masterfully.
Personally, my favorite all-time rendition of the Star-Spangled Banner was done by American Idol winner Jordin Sparks at the 2008 Super Bowl when the New York Giants upset the previously undefeated New England Patriots. It was a little longer than Ian likes it but, to me, it was the most beautifully done rendition I have ever heard. I tear up every time I hear it, without fail!
In last year's LHSAA Division II basketball semifinals, St. Thomas More's Hunter Swilley stepped up to the microphone and delivered his beautiful rendition! He did his school, his family, and the Lafayette area proud. And, he hit right in that length of time pocket that Ian mentioned.
ST. LOUIS CARDINALS PITCHER ADAM WAINWRIGHT DELIVERS THE NATIONAL ANTHEM 
On Opening Day of the Major League Baseball season, St. Louis Cardinals pitcher Adam Wainwright decided to take on the challenge as he began his final season in the Big Leagues. He's spent his entire MLB career with the Cardinals, who he made his debut with in 2005 after a minor league career with the Atlanta Braves that began in 2000.
What a way to kick off your final season!
Speaking of kicking things off, here are the highlights of MLB Opening Week so far.
Celebrating Opening Day with Awesome Baseball Movies
Some cool baseball movies to enjoy after games and coverage end for the day.
Amazing Photos from the 2022 Baseball Hall of Fame Inductions in Cooperstown, NY
Don Laible takes his camera around Cooperstown, NY during the National Baseball Hall of Fame Induction weekend on July 24, 2022.
Look At Some of the Homes Owned By Your Favorite Houston Astros Baseball Players
We all know that Major League Baseball players make millions of dollars, lets take a peek at some of the homes owned by Houston Astros players
More From Talk Radio 960 AM