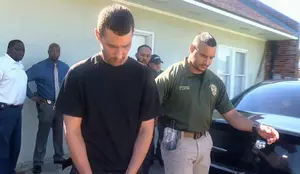 Opelousas Police: 38-Year-Old Man Beats Elderly Driver In Road Rage Incident
Joshua Babineaux (Photo Courtesy of KATC)
A 38-year-old man has been arrested for allegedly assaulting an elderly man in Opelousas in a road rage incident.
Police Chief Donald Thompson says they arrested Joshua Babineaux this morning after the public recognized him from surveillance video released to the media. He says the attack happened after the 72-year-old victim supposedly cut off Babineaux and they pulled over.
"Mr. Babineaux grabbed the cane out of his hand and began striking the old man with the cane, therefore, that's how his arm got injured because he didn't want the old man to strike him in the face."
Thompson says the victim recently underwent surgery for his injures and is recovering. He says this elderly man posed no threat to Babineaux.
"Putting fear into elderly people, that's the last thing I want. That fear put into elderly people that they can't go run their little errands or whatnot."
Babineaux is charged with aggravated second degree battery and simple battery of the infirm. Thompson says the community really came together to help find Babineaux.
"They responded quickly, they came together with the Police Department in order to make this arrest. No one considered the color of the victim or the violator when it came down to doing what was right."