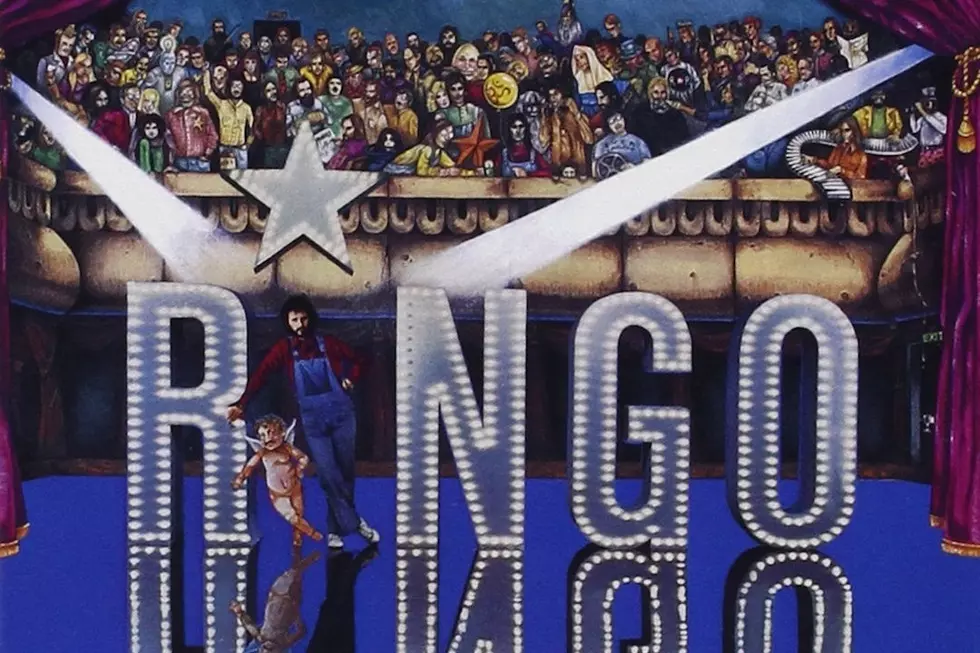 50 Years Ago: Ringo Starr's 'Ringo' Becomes a Partial Beatles Reunion
Apple Records
The closest the Beatles ever got to reuniting in the studio during John Lennon's lifetime was on Ringo, Ringo Starr's third solo album. It was released in the U.K. on Nov. 23, 1973, and soared to the top of the charts and became the drummer's only platinum solo LP.
Starr, Lennon and George Harrison gathered in Los Angeles on March 12, 1973, along with longtime Beatle buddies Billy Preston (a sideman on 1970's Let It Be) and Klaus Voormann (who drew the cover art for 1966's Revolver), to record the Lennon-composed album track "I'm the Greatest."
"We were like big girls again," Starr told Bill Minkin in 1977. "We were all looking at each other smiling. We hadn't played together in four years. We were just smiling while we were playing. It was nice."
READ MORE: Top 10 Ringo Starr Beatles Songs
Later during the sessions, Starr flew to London, where Paul McCartney and his wife Linda joined in on Paul's "Six O'Clock," which had been written specifically for the album. McCartney also appeared on "You're Sixteen." Harrison, meanwhile, sat in on "Sunshine Life for Me," "Photograph" and "You and Me (Babe)," and co-wrote the latter two.
Listen to Ringo Starr's 'Photograph' With George Harrison
Beatles Were Joined by an All-Star Cast
Producer Richard Perry was also afforded the sideman talents of Harry Nilsson, T Rex's Marc Bolan, Rolling Stones sideman Nicky Hopkins, Motown legend Martha Reeves, Steve Cropper of Booker T. and the MGs fame – and four of the five members of the Band: Robbie Robertson, Levon Helm, Rick Danko and Garth Hudson. But make no mistake: The album was then, and is now, best known for having provided fans a rare chance to hear the Beatles together on one album following their acrimonious 1970 breakup.
Though the former bandmates got together in pairs on several other occasions, the only other time this many Beatles worked together in a recording session was during the '90s when Starr, Harrison and McCartney collaborated to finish some of the late Lennon's songs for the Anthology series.
The fact that Starr had yet to record a proper pop album as a solo artist only added to the interest in this project, which followed records focusing on country music and songbook classics. Of Starr's three post-Beatles gold singles, two of them – the chart-topping "Photograph" and "You're Sixteen" – come from Ringo. Another single from the album, "Oh My My," also hit the Top 5.
Listen to Ringo Starr's 'Six O'Clock' With Paul McCartney
Classic Rock's 20 Worst Mistakes
Counting down the worst things that ever happened in classic rock.
Gallery Credit: Nick DeRiso
You Think You Know the Beatles?
More From Talk Radio 960 AM