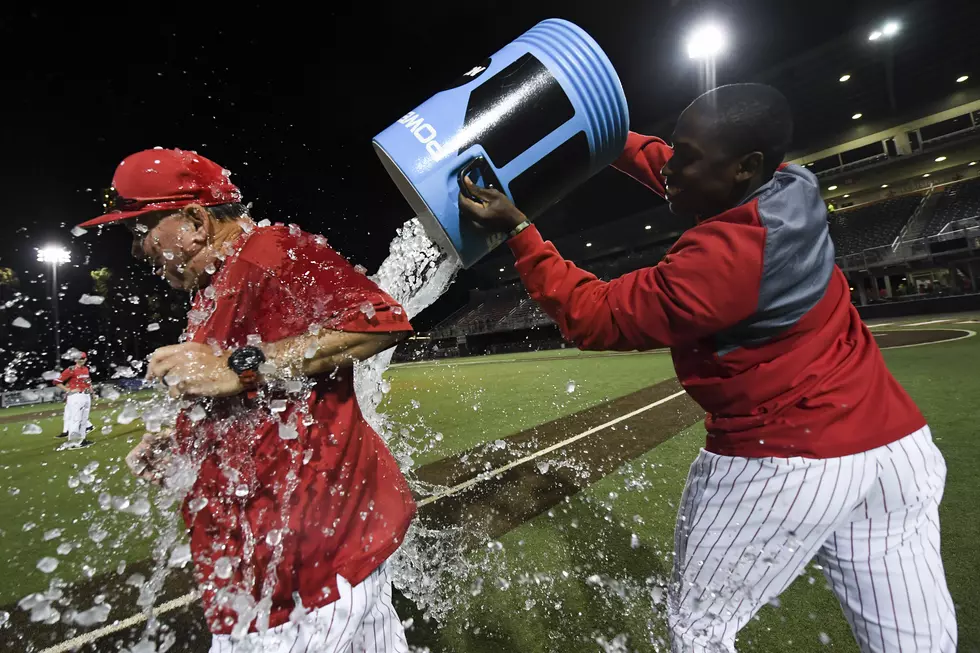 Robichaux Gets Win #900 As Cajuns' Coach
BENJAMIN R. MASSEY PHOTO
Two Cajun freshmen combined on a three hitter as Louisiana defeated Southeastern Louisiana 8-2 Tuesday night, giving head coach Tony Robichaux his 900th win as the Cajuns' skipper.
Redshirt freshman Logan Savoy worked 6.2 innings, giving up just two hits and two unearned runs in his first collegiate start.  Savoy walked three and struck out seven in his 94 pitch effort.  Connor Cooke allowed just one hit in the final 2.1 innings.
Louisiana (14-16) got on the board in the second inning when Orynn Veillon was hit by a pitch, stole second and scored on Colton Frank's single and tallied three more runs in the third.  Brennan Breaux walked in front of Hunter Kasuls' two run homer to right center and the Cajuns added another run on Veillon's sacrifice fly, giving the home team a 4-0 win.
The Lions (14-14) got on the board in the third when Preston Faulkner led off with a walk and Kyle Schimpf reached when Frank dropped his fly ball in left field.  Saboy got Nick Ray on a strikeout and Brennan Breaud on a grounder to first, but Trey Harrington plated both runners with a single to cut the lead in half.
The Cajuns, however, got those runs right back when Hayden Cantrelle hit a one out homer to right field, his seventh of the season.  Kasuls singled with two out and Todd Lott delivered with a ball in the gap to score Kasuls and make the score 6-2.
Cantrelle's two run single in the eighth plated Veillon and Frank for the final two runs of the game.
The win was Robichaux's 1,163rd, including his years as head coach at McNeese State.
The two teams play again tomorrow evening at Pat Kennely Diamond at Alumni Field in Hammond.  Dalton Horton will get the start for the Cajuns in a game scheduled for 6:00 pm.  The game will air on ESPN1420 with pre game show at 5:30.
More From Talk Radio 960 AM