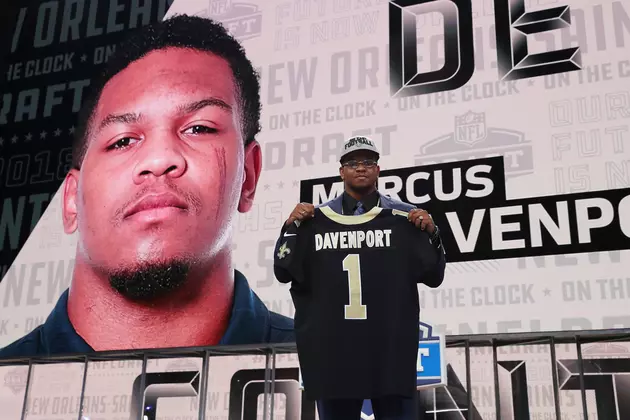 Saints Agree To Terms With Marcus Davenport, 5 Other Draft Picks
(Photo by Tom Pennington/Getty Images)
The New Orleans Saints agreed to terms with six recent selections from the 2018 NFL Draft on Thursday, including their top pick.
The deal is for four years, and while financial terms were not disclosed, the Saints selected Davenport with the 14th-overall pick, the same spot that the Philadelphia Eagles chose Derek Barnett last year.
Barnett signed for $12.85 over four years (all rookie contracts have a standard 4-year length), so you can speculate that Davenport's deal is likely just a little more.
The 6-foot-7 Davenport compiled 21.5 sacks and 37.5 tackles for loss during his college career at UTSA.
In addition, the Saints also came to terms with five other players selected in the 2018 NFL Draft.
The team reached agreements with 4th-round pick Rick Leonard (offensive lineman), 5th-round selection Natrell Jamerson (defensive back), 6th-round picks Kamrin Moore (defensive back) and Boston Scott (running back), and 7th-round selection Will Clapp (offensive lineman).
That leaves wide receiver Tre'Quan Smith, the Saints' third-round choice, as the team's only remaining unsigned draft pick.
The Saints are set to begin their three-day rookie minicamp, which will run from Friday-Sunday.
More From Talk Radio 960 AM