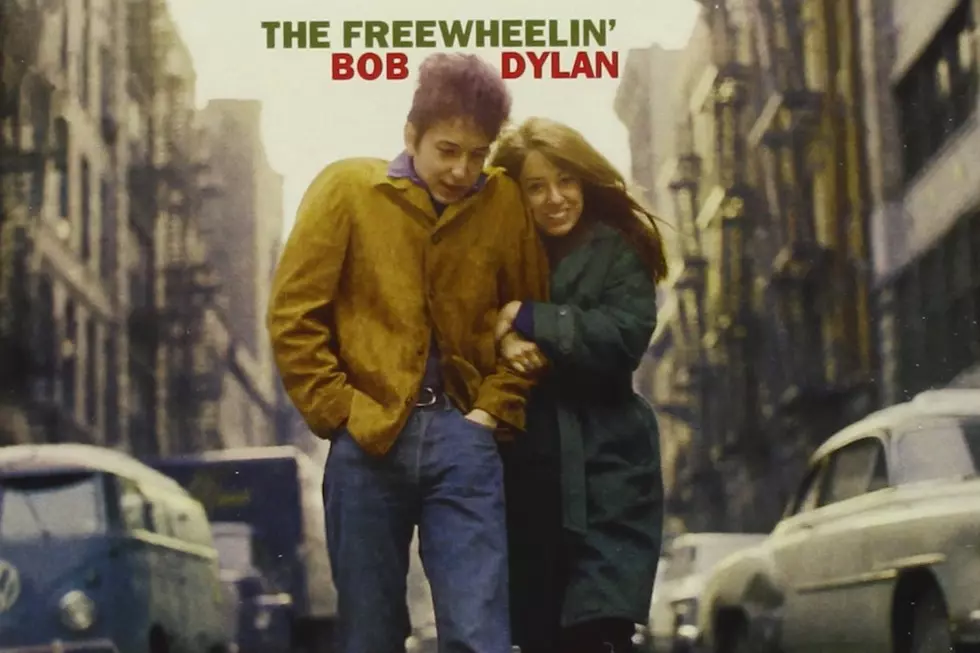 How 'The Freewheelin' Bob Dylan' Became His First Classic Album
Columbia
Bob Dylan was already the darling of the modern folk movement when he released his second album on May 27, 1963. The Freewheelin' Bob Dylan is the LP that delivered on Dylan's early promise and provided his springboard to legendary status.
Word was already spreading fast about Dylan when the 20-year-old folksinger released his self-titled debut album in 1962. There was a folk music boom in the late '50s and early '60s on college campuses and in cultural centers like New York City gathering around aging, fading or just plain dead singers from earlier generations. The movement needed a new voice, and Dylan became its hero (reluctantly, if you believe him). But for all of the fortified folk on Bob Dylan, it's not a very original work. Dylan wrote only two of its songs by himself.
But when he returned the following year with The Freewheelin' Bob Dylan, he sounded like the new legend his growing fan base claimed he was. His voice was more steady, his style more distinctive, and except for a couple of songs he adapted, he wrote everything himself. And it makes every difference in the world. Not only is The Freewheelin' Bob Dylan the record that set Dylan on the path to greatness, it's the greatest modern folk album ever made.
The 13 songs range from plaintive love ballads ("Girl From the North Country") to breakup tunes ("Don't Think Twice, It's All Right") to traditional cuts ("Corrina, Corrina") to angry antiwar numbers ("Masters of War"). Plus, the album includes "Blowin' in the Wind," which turned into one of the signature songs for civil rights protesters across the nation, even though Dylan has dismissed its standing. Either way, it's a monumental work – near poetic at times – that chronicles man's struggles through the ages.
While Bob Dylan didn't even chart, The Freewheelin' Bob Dylan  reached No. 22 and sold more than a million copies. It's become a cornerstone of Dylan's career – especially the early acoustic years – and songs like "A Hard Rain's a-Gonna Fall" still resonate today. The album wasn't without its controversial side effects: Early pressings of the record included a handful of other songs, most of them political, that were pulled and replaced. But in the end, it didn't matter much. The voice of a generation had made himself heard, loud and clear.
Top 10 Double Albums
Releasing a double album in the '60s and '70s was a rite of passage. But which one was best?
Odd Couples: Bob Dylan and Michael Bolton
More From Talk Radio 960 AM