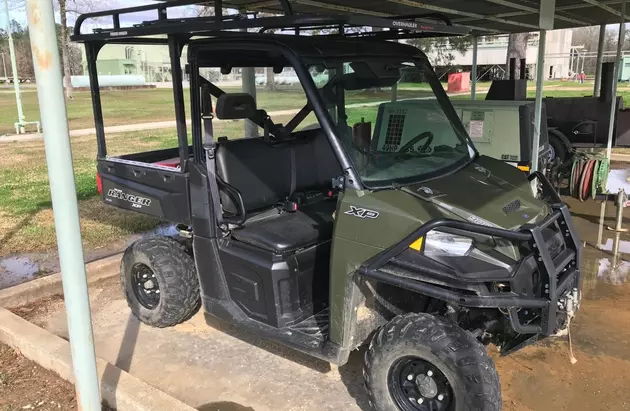 Fence Cut & Polaris Stolen From Acadia Parish Business
Photo courtesy of Acadia Crime Stoppers
One of the cases that is being featured by officials with the Acadia Parish Crime Stoppers group is a case where the Acadia Parish Sheriff's Office is trying to recover a stolen side-by-side.
When detectives got to the scene, they found that whoever was responsible for making off with this side-by-side, had cut the fence around the area where the vehicle was being stored in order to steal it.
At some point between Friday, February 7 and Monday, February 10 someone, or some persons, took off with a very expensive side-by-side group that belongs to a business in the 5700 block of Church Point Highway.
Officials with this business that is located north of the town of Rayne, are wanting to get this vehicle back as the cost of the side-by-side is around $15,000.
Detectives are hoping that someone will recognize this side-by-side, and they can return it to the person that owns it.
This vehicle is a Polaris 900 Ranger. This model that was stolen from the owner is green in color, and it's a two-seater.
The picture that accompanies this story is the actual side-by-side that was stolen.
You can anonymously give information about this crime or any other crime, by calling the Acadia Parish Crime Stoppers Tip Line at 337-789-TIPS(8477).
There is also another way to share information anonymously. You can download the P3 app on your phone.
If you know something, be sure to share that information as soon as possible. The person who is able to give authorities information that leads to someone's arrest in this case can receive reward money up to the amount of $1,000.