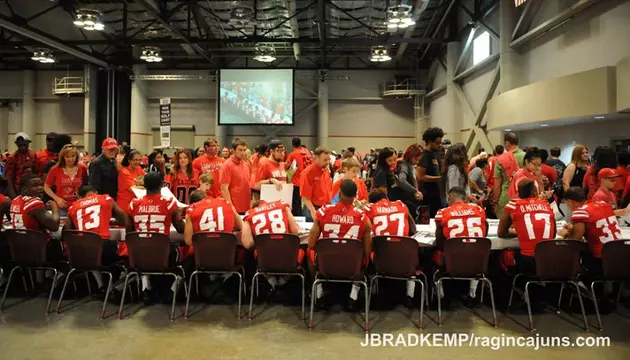 Football "Fan Day" Set For Today
Brad Kemp/RaginCajuns.com
The home opener is just six days away and it's time for fans to get up close and personal with the Louisiana Ragin' Cajuns football team.
The team's annual "Fan Day" is taking place today.  Doors open at 4:00 pm at the Cajundome Convention Center.  The festivities will go until 6:00
Fans will be able to get autographs and take pictures with players, along with picking up commemorative posters.  The first 1,000 kids in attendance get free t-shirts (courtesy Mid South Bank).
In addition, fans can purchase clear bags in accordance with the new "clear bag policy" in effect on game days as announced earlier.
The Cajuns' band, cheerleaders and Ragin' Jazz will be on hand, along with members of the volleyball, cross country and men's and women's basketball teams.
More From Talk Radio 960 AM