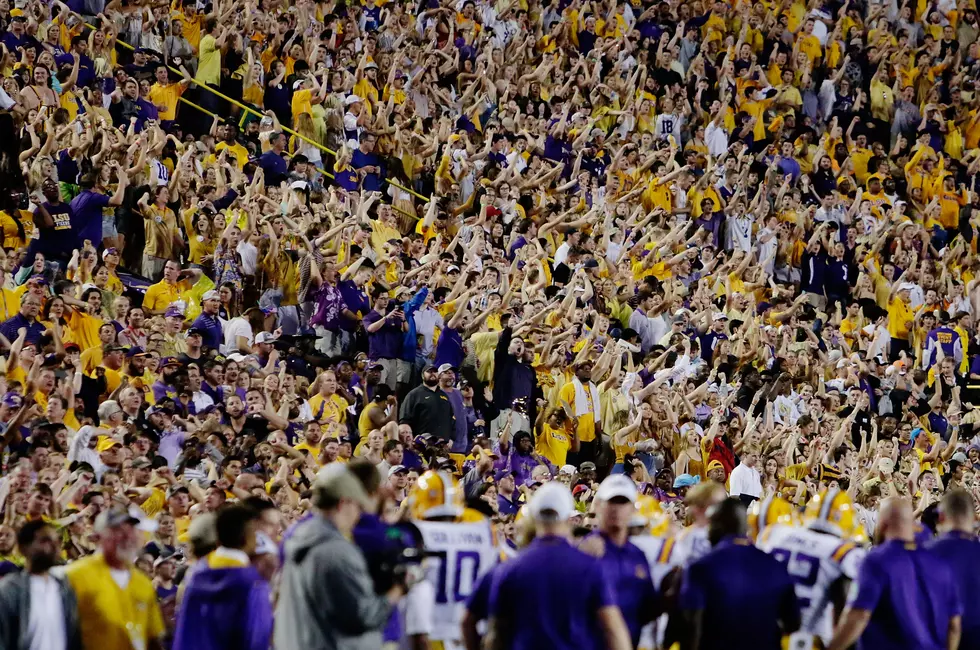 LSU Fans Raise Over $5,000 (So Far) To Put #FreeDevinWhite Billboards Near SEC Offices
Marianna Massey, Getty Images
LSU fans are putting their money where their mouths are.
Actually, they're putting billboards where the SEC is—or at least they're trying to. A GoFundMe Page was created by a Lafayette LSU fan by the name of Edward H. who posted the following description in the #FreeDevinWhite campaign.
#FreeDevinWhite

We're putting up a billboard for two weeks in Birmingham, AL, the home of SEC headquarters, to let them know it's time to #FreeDevinWhite.

A downtown Birmingham billboard will cost $2305.

An I-65 billboard will cost $1845.

We'll fund as many billboards as possible, with any excess funding going as a donation toward the LSU School of Veterinary Medicine, in honor of Devin's love of horses.

That's a Geaux Tigers.
White was ejected from Saturday's game against Mississippi State on a targeting call that has been the topic of debate since it happened in the fourth quarter. Social media has been flooded with angry tweets and Facebook posts, specifically since the targeting call means the LSU defensive star will miss the first half of the Alabama game.
Anyone within a 100-mile radius of Tiger Stadium knows how crucial the LSU-Bama matchup is, and LSU fans are not taking kindly to the idea that one of their top players won't be on the field over such a controversial call with no formal appeals process.
So, they're doing the next best thing. Putting #FreeDevinWhite billboards where the SEC officials have no choice but to see the message.
Will it work? Only time will tell—but if the last GoFundMe is any indicator, the campaign might play out well online in a "rah-rah let's rally the LSU troops" fashion, but the chances of the billboards changing this decision are slim to none.
U.S. Rep. Garrett Graves started an LSU-related GoFundMe to raise money to pay the $100,000 fine for fans storming the field after LSU beat Georgia, but after gaining steam, the campaign trickled out around $17,000.
LSU-Alabama has been set, kicking off in prime-time November 3 at 7 p.m. on CBS.
More From Talk Radio 960 AM