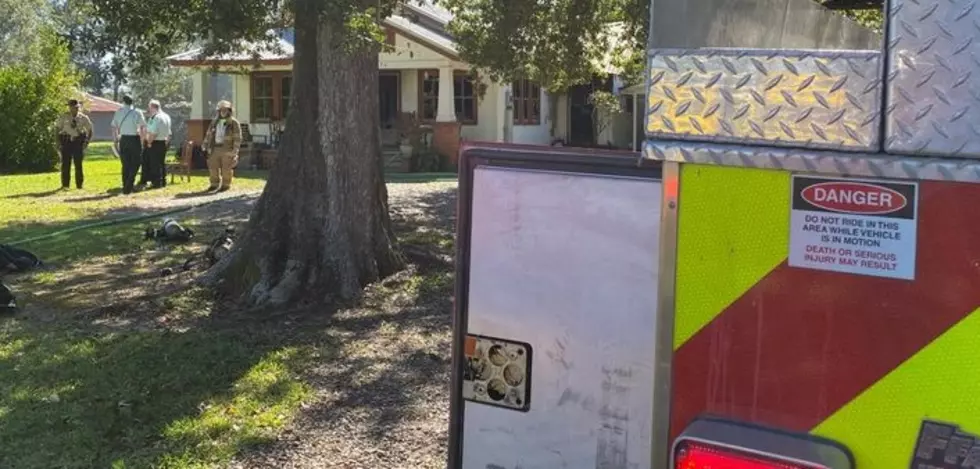 Man Dies In Cecilia House Fire
Photo courtesy of State Fire Marshal Butch Browning's Office
The State Fire Marshal's Office has announced today, via press release, that a 20-year-old man died in a Cecilia house fire yesterday morning.
The St. Martin Parish Sheriff's Office is conducting an autopsy, and pending completion, is expected to release the man's identity and the cause of death.
Cecilia Fire Department officials were called out to the home in the 1100 block of Grand Anse Highway to find the home engulfed in flames. When the fire was put out, the body of the man was discovered.
At this time, the State Fire Marshal's Office says that they are not ruling out the possibility that the fire started in the kitchen area of the home, maybe with some food being left unattended while it was cooking.
Fire Marshal Butch Browning says that investigators talked to witnesses in connection with this situation who explained to them that the man often went fishing late in the evening. The man was then known to cook when he would return in the early morning hours. Several witnesses said the man would then go to sleep.
Browning says it bares repeating some simple guidelines for safety while you are cooking:
You should never leave any cooking food unattended.
You should not try to cook when you are intoxicated.
You should not cook when you are distracted.
You should not cook if you are under the influence of drugs or alcohol.
Browning adds that everyone should have working smoke detector in their home. If you just can't afford a smoke alarm, you may be eligible to receive help through Browning's Operation Save-A-Life program. You can click here to find out more information. The Louisiana Fire Marshal's Office teams up with local fire departments to try to get smoke alarms installed in homes where people may not be able to afford them, or if they are not able to install them on their own.
If you need more information about fire safety, click here.
While Browning says the fire is not considered suspicious, the investigation is still ongoing.
More From Talk Radio 960 AM