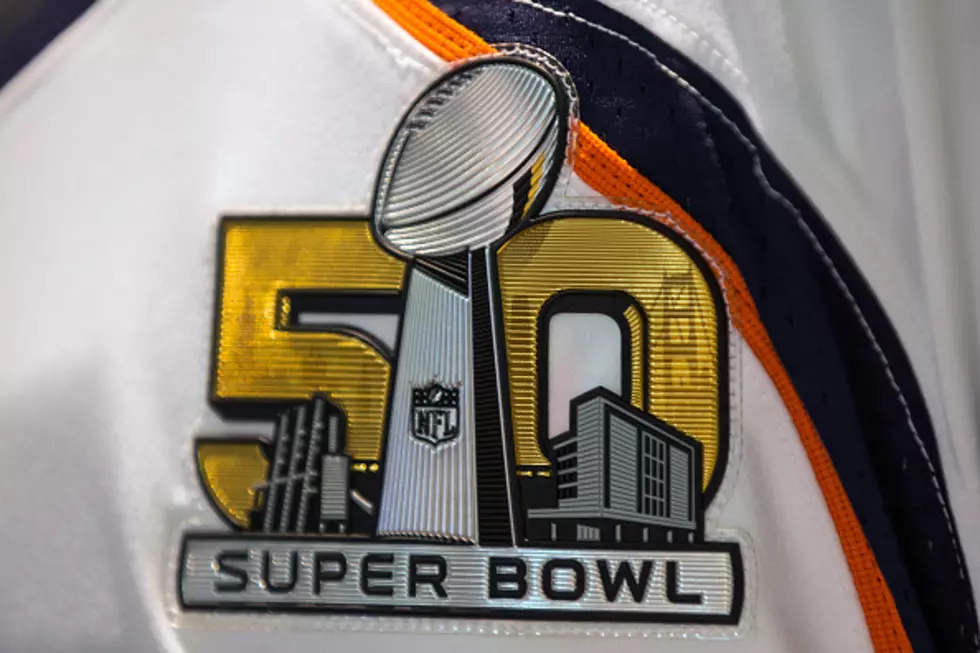 Our Office Makes Predictions for the Big Game – From the Bird's Nest
Jason O. Watson/Getty Images
The Super Bowl is Sunday and I asked my co-workers what they thought about their predictions on the game:
MIKE GRIMSLEY--MANY TITLES,INCLUDING BOSS--CAROLINA 27-21.  Because the Peyton Manning story would be too good, even for the movies.  (I put him first on the list because I'm a suck up.)
SCOTT PRATHER--CAROLINA wins 38-12.  The Panthers are simply better.  (Nice analysis, Einstein)
MIKE (BANDIT) BERNARD--CAROLINA 26-20.  But I'd love to see Peyton ride off into the sunset on a Bronco. (That's better than OJ in a Bronco)
KEVIN FOOTE--DENVER 27-17.  Defense and experience normally prevails in the Super Bowl. (Kevin's prediction is based on not wanting his wife to kick his butt.)
RYAN BANIEWICZ--CAROLINA will win, 31-19. Carolina's defense is going to shut old man Peyton down, and Cam Newton is going to rush for at least one touchdown in the win. He will dab all over the Super Bowl stage, and the rest of the world will have to deal with it.  (Besides, his girlfriend's name is Carolina.)
"SCREAMIN" FREDDIE MARTIN--CAROLINA 35-10.  Offense.  Denver has none. (Freddie lives right across the river from Mississippi.  If you need Yuengling, call him.)
STEVE PELOQUIN--CAROLINA 27-17.  Their front seven contains Carolina's running game and Peyton can't turn back the hands of time.  (Nice Tyrone Davis reference from 1970)
BIL RYCKMAN--CAROLINA 24-14.  Because I played in the NFC. (Bil bets one of his bandanas on it.)
JAMES P. BITTERMAN--CAROLINA 36-13.  Kawann Shorts and Star Lotuleiei bring too much pressure up the middle and Cam goes to Disney World.  (Mr. Bitter says if Denver wins, Les Miles deserves a lifetime contract at LSU.)
BRANDON COMEAUX--CAROLINA 31-20.  Carolina's running game will neutralize Denver's pass rush. (Brandon sits across from Moon Griffon for two hours every day.  He gave up a talk show on ESPN 1420 to do that.  Pray for his soul.)
ROB KIRKPATRICK--DENVER 28-7.  Not so much pulling for Denver as much as pulling against Cam Newton.  No one has made more of a mockery of the NFL than he has.  (Spoken like a true Republican.)
CHRIS REED--CAROLINA 27  Broncos 23 (I think Manning will play better than most anticipate, but it will not be enough to top Cam Newton and the Panthers. Expect a good defensive battle, but ultimately Cam strikes and walks out with the trophy. I should note here, I'd like to see Manning win one more before he hangs up the cleats. (Chris says it's a "Piece of Cake.")
DJ DIGITAL--PANTHERS 31 Broncos 24 -Two great defenses and one great offense will be present in the super bowl. The team with the great offense will win.  (That's a pretty offensive statement.)
STEVE WILEY--CAROLINA wins by at least two touchdowns.  (He didn't sound happy about it.)
DEBBIE RAY--CAROLINA 44-17  Cam Newton  (Debbie can be pretty direct at times.)
JOBO--As much as I want Peyton to win one more Super Bowl, Carolina is an all around beast. Taking my likes or dislikes of individual players out of it, I say CAROLINA wins 24-20. (Jobo is taller than any player in the Super Bowl.)

JUDE WALKER--CAROLINA 34-16.  Although I'm hoping Fig Newton doesn't score a touchdown so we don't have to see the Dab or Dap or Dib or whatever the hell it's called.  Twelve safeties...you heard it here first.  (The kid is not my son).
WINKY DINKY DAWG--What I think will happen and what I hope happen are 2 different things.  Here is what I hope happens....Denver wipes the floor with the Panthers.  Anyone who says we have to route for the Panthers just b/c they are in the same division as the Saints are the same people who say we have to root for Satan just b/c he is in the Bible!!  I'm afraid the opposite will happen but I don't have to like it.  (I think I would have chosen a different name for the radio.  But that's just me.)
MICHAEL DOT SCOTT--CAROLINA 27. Denver 17. The Panthers handled Seattle's "D" just fine, so I'm not sure Denver will be a big problem. (Michael's middle name is Dorothy, hence the nickname).
TERRYN--Broncos: 24, Panthers: 21  I think it will come down to a field goal; Manning is likely retiring soon, and even though both teams have a strong offense, I think he will pull through with a W and a ring.  (Terryn would also like a ring.)
DAVE LANDRY--BRONCOS 27-20.  Because I hate Carolina.  (Spoken like a Saints fan.)
SAM STOKES This game isn't the great offense of the Panthers against the great defense of the Broncos as it has so widely been reported. This is the great offense and defense of the Panthers against the great defense of the Broncos. The Panthers are a complete team with some of the best defensive players in the game. They also happen to have a quarterback who is redefining the position. Give me the PANTHERS in a blowout. (Sam is the office Fantasy Football Program.  We hate Sam.)

DANA BAKER--EVENTS COORDINATOR--CAROLINA...Charles Tillman.  Geaux Cajuns!  (Dana has 25 formals.  And, she doesn't monkey around.)
JANET THERIOT, RECEPTIONIST--DENVER wins 23-16.  The Broncos' uniforms are nicer...but what do I know...I slept (like a log) in a fireplace last night.  (You just THINK she's reserved when you come to pick up a prize.  If you only knew..). 
RAY SUTLEY--PRODUCTION DIRECTOR AND RESIDENT CURMUDGEON--CAROLINA 24, Denver 20.  While not a Panthers fan, I just think they're the better team.  Plus, c'mon, Peanut will be on their sideline!  (Ray sounded happy.  Someone call a doctor.)
FRANK MALAMBRI--DIRECTOR OF SALES--BRONCOS 24, Panthers 21.  Because it's destiny.  (Just like RGIII was a can't miss pick, right Frank?)
PAM BEGNAUD--SALES MANAGER--PANTHERS 21-14.  Because Jake was the last one to take them to the Super Bowl. (Pam loves Jake.  Bubba is okay with it.  He has no choice.)
JEREMY POYNOT--SALES--DENVER 27,Carolina 22--Broncos pass rush and secondary frustrate Cam, Peyton has magical game that is antithesis of SB 48 failure vs Seattle. (Jeremy is the only one to use the word "antithesis" in this post.)
SHEREE PRINCE--SALES--  DENVER.  Because I hate Cam Newton.  (Sheree is currently undergoing anger management)
MARY GALYEAN--SALES--Because I LOVE Peyton Manning. (It should be known however, no picture of Mary with her arms around Peyton exist.  Pics of Mary and me, however, are everywhere.  So, who does she really love?)
PAUL FARNHAM--SALES--DENVER 28, Carolina 21--Peyton Manning makes the difference. (Paul is from North Louisiana and, ironically,  sounds a lot like Peyton Manning.)
SONDRA MORROW--SALES--DENVER.  Peyton all the way.  If you can rock SNL, you're a winner.  (Sondra remembers the Peyton/United Way sketch.  She's been searching for that little boy in the Port-O-Let ever since.)
MATT GHOLSTON--ENGINEER--Who's playing?  (Matt was busy breaking something so he could fix it at the time.)
As far as my pick is concerned.  I'm taking CAROLINA 24-13.  Denver won't generate enough offense against the Carolina defense.  Can't wait to see Peanut's face......
More From Talk Radio 960 AM