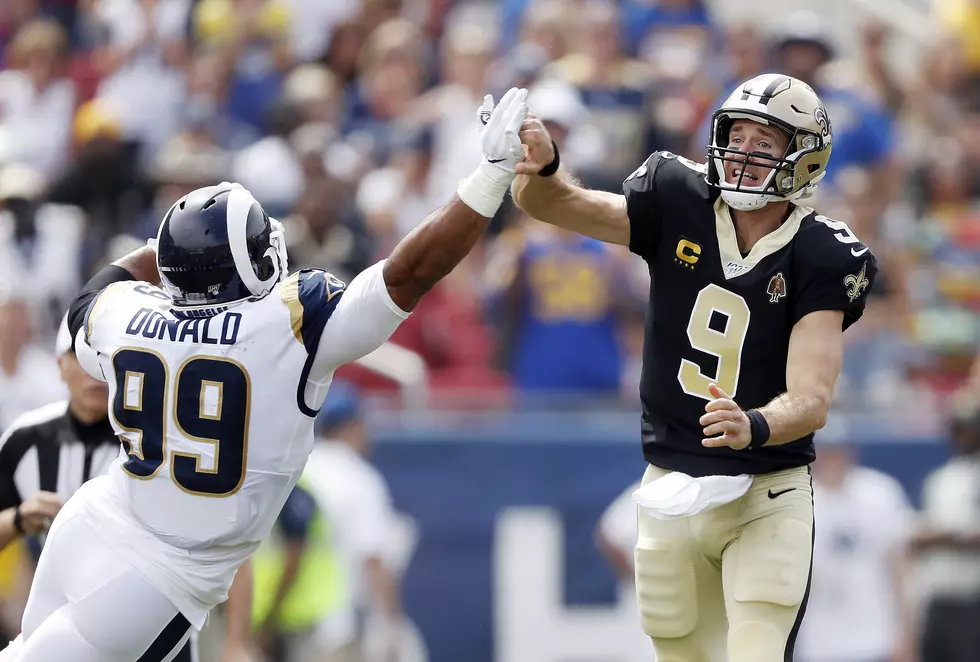 Saints Can't Overcome Brees Injury, Officials (Again)
Getty Images/Sean M. Haffey
On Sunday, the New Orleans Saints lost Drew Brees to an injury as the Los Angeles Rams defeated the Saints 27-9.
Oh, yeah.  The refs screwed them again, too.
An 87 yard fumble return by Cam Jordan was nullified because the fumble was ruled an incomplete pass on the field.  The call was reversed but because of the whistle the touchdown did not count and the Saints instead got the ball deep in their own territory.  The Rams had driven from their own 25 to the Saints' eleven before David Onyemata made the defensive play.  The Saints drove to midfield but failed on fourth down and the Rams kicked a field goal on the final play of the first half to take a 6-3 lead into the locker room.
Brees injured his hand on the Saints' second possession and Teddy Bridgewater took over at quarterback for the Saints.  Bridgewater's first drive was thwarted by back to back penalties against the offense.  Bridgewater completed 17-30 for 165 yards.  He was sacked twice.
After a Rams punt, Deonte Harris' 19 yard return gave the Saints good field position at the Rams' 41 yard line.  A clutch third down pass from Bridgewater to Jared Cook gave the Saints the ball at the 20, but the Saints could get no farther and Wil Lutz hit a 34 yard field goal to tie the game with 11:06 to play in the second quarter.
The Saints tied the score on their first drive of the second half on a 52 yard field goal by Wil Lutz, but the Rams scored on their next two possessions.  Todd Gurley scored from four yards out and Goff hit Cooks on a two yard touchdown to make it 20-6 with one minute left in the third quarter.
The Saints got a field goal on their next possession but a long catch and run by Cooper Kupp led to a one yard touchdown run by Goff to put the Rams in command 27-9
More From Talk Radio 960 AM