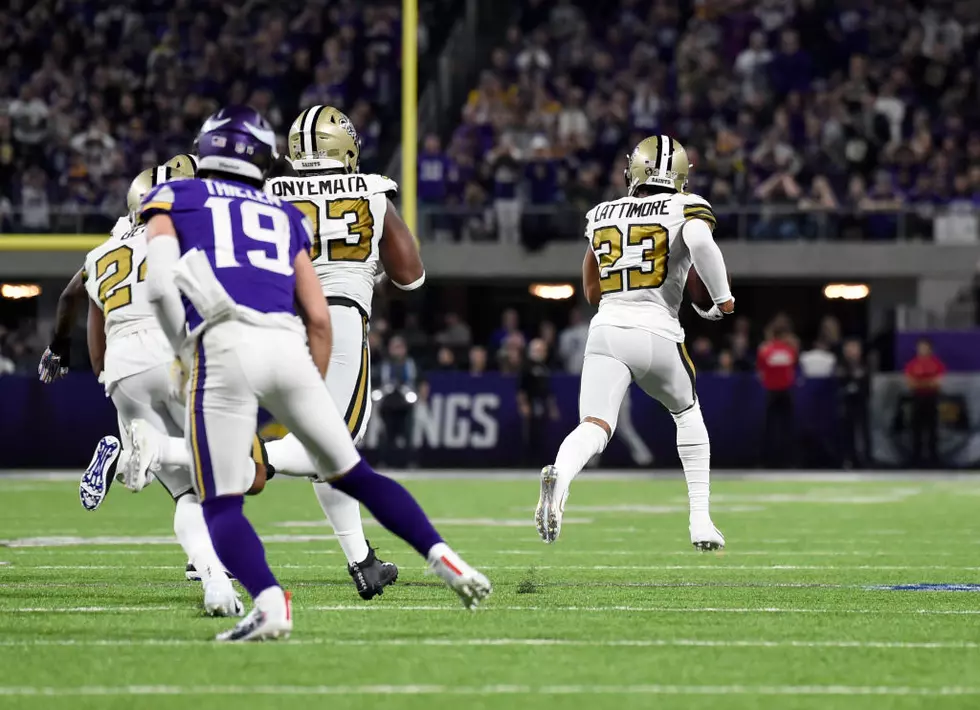 Three Reasons The Saints Will Defeat The Vikings This Weekend
(Photo by Hannah Foslien/Getty Images)
Enter your number to get our free mobile app
The New Orleans Saints are the #3 seed of this year's NFL Playoffs and will welcome in the 6th seeded Minnesota Vikings to New Orleans on Sunday at 12:05 p.m.
As of Thursday, the Saints are favored by 7.5 points which sounds about right as it would be the biggest upset of the playoffs if New Orleans were to fall.
Here are the three biggest reasons the Saints will win this week:
The Mercedes Benz Super Dome has been awfully friendly to the Saints in the Drew Brees era in the playoffs as he's got a 6-1 mark. It's also no mystery but Brees has played exceptionally well in the seven home playoff games as well. He's thrown for 2,079 yards (297 yards per game), 16 touchdowns and three interceptions. Of course, the lone loss Brees has suffered at home shouldn't have been a loss if the proper call was made last season... All in all, he's a stud when it comes to postseason games at the dome.
2. NOT QUITE THE PURPLE PEOPLE EATERS ON DEFENSE
The Minnesota Vikings have boosted some very strong defenses in the past that have really propelled them to be as good as they have been. However, this season the defense has struggled in many areas, don't get me wrong the former LSU product Danielle Hunter is a beast, but there are other positions of concern for the Vikes. For example, their third-down defense has not been great after absolutely dominating the past two seasons on that critical down. They were ranked third across the NFL in both of those seasons as in 2017 they allowed a 25.2% conversion rate and 30.5% in 2018 but this season that rate is all the way up to nearly 40% which ranks 19th. Part of that has to do with the average yardage needed for an opposing team to convert at only 6.5 yards this year which is second-fewest in the league. On the other hand, in 2017 and 2018 opponents needed an average of 7.6 yards to convert on third down.
In addition, the cornerbacks have struggled this year as Xavier Rhodes has badly regressed and should have been Pro-Bowl linebacker Eric Kendricks sustained a quad injury just before Christmas and practiced for the first time Thursday. Drew Brees, Michael Thomas, and company should be licking their chops for this match-up.
3. KIRK COUSINS DOESN'T LIKE THAT
Yes, we're talking about primetime games, Kirk doesn't like those as he's not only 0-9 on Monday Night Football but just 7-16 overall (including playoffs 0-1). Basically, with any game where his team is center of attention which the playoffs are Cousins led teams tend to shrink. When you add the fact that he'll need to try and win at the SUPER DOME with one of, if not the best environment in sports, the outlook doesn't seem favorable for Kirk.
More From Talk Radio 960 AM