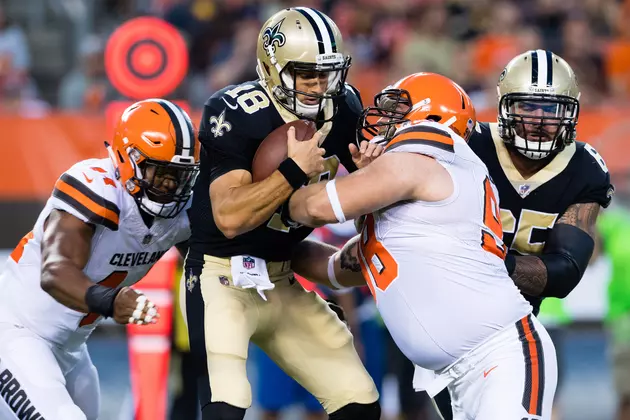 5 Positives/5 Negatives From Saints' Preseason Loss To Browns
(Photo by Jason Miller/Getty Images)
The New Orleans Saints dropped their 2017 preseason opener on Thursday night, falling to the Cleveland Browns, 20-14, at FirstEnergy Stadium in Cleveland, Ohio.
The Saints have now dropped 10-consecutive preseason contests, dating back to 2014.
It is the preseason, so you have to make sure you don't overanalyze things, or be quick to jump to conclusions. After all, the Saints did play without their best offensive player, quarterback Drew Brees, and their best defensive player, Cam Jordan.
That being said, it's been awhile since I've done things, and I'm having withdrawals, so let's take a look at five positives to take away from the game, as well as five negatives.
1)---Tommylee Lewis:  This one is pretty easy, after Lewis caught 10 passes for 128 yards and a touchdown. This is a critical preseason for Lewis, who won't be able to make the roster simply due to his return abilities this year. The Saints added Ted Ginn, Jr. and Alvin Kamara, who will more than help there. Can statistics in the preseason be misleading? Sure. But Lewis had seven more receptions than Brandon Coleman, who was second on the team in catches, made a diving reception, and really looked good last night.
2)---First-Team Defense: During the first quarter, the Saints' defensive starters held the Browns to 41 total yards. No, the Browns aren't going to be an offensive juggernaut, and Brock Osweiler may not even be their starting quarterback, but anytime you hold an NFL offense to 41 yards over one quarter, that's a positive thing.
3)---Alvin Kamara: The rookie out of Tennessee paced the Saints in rushing, with 35 yards on 4 carries. Most people think he'll be outstanding as a receiver out of the backfield, and a good return man, but some still question his running ability. Last night, Kamara was specifically impressive on one run, in which he broke a tackle at the line of scrimmage, before gaining 22 yards. He brings a nice skill-set to the Saints.
4)---David Onyemata: He's battling with Tyeler Davison for a starting defensive tackle spot, and he imrpressed on Thursday night, accumulating 5 tackles, which placed second on the team, including 4 solo stops. Defensive tackles aren't expected to make a ton of tackles. They're expected to occupy blockers so that the linebackers can make the stops. Onyemata did both.
5)---Special Teams: The have been abysmal on special teams over the past decade-plus. Now, with new coaches, and an influx of young. athletic players, who can help on special teams, this unit may be much-improved in 2017. Kicker Wil Lutz, who has been impressive in camp, went 2-for-2 in field goal attempts, Thomas Morstead averaged 48.0 yards-per-punt, and there were no major breakdowns in coverage. Not perfect, but this group doesn't have to be. They just have to be better.
1)---Garrett Grayson: No, his numbers weren't bad (11-of-16 passing for 126 yards), but he fumbled, setting up a Cleveland touchdown, and he didn't do anything to give himself a better opportunity of making the final roster. A third round pick in 2015, Grayson was cut last year, before spending the season on the Saints' practice squad. It's a do-or-die preseason for Grayson, and he just didn't do enough.
2)---Damian Swann: I like Swann. I've liked Swann, dating back to his days at Georgia. But the Saints have a lot of numbers at cornerback, and he just hasn't been able to stay on the field over his first two seasons, being limited to only 7 games in 2015, due to three concussions, while missing all of last season. Like Grayson, Swann needs to play really well, but not only was that not the case on Thursday night, he also allowed a receiver to get behind him for a 45-yard pass completion, which set-up the game-winning score.
3)---Marshon Lattimore: He didn't play, after tweaking a knee in practice last week. No biggie, but just would have been nice to see the Saints' first draft pick in action at cornerback.
4)---Ryan Ramczyk: He didn't play either, due to an undisclosed injury. So, that's two first round draft choices who didn't play. Again, it's not a big deal, but it would have been nice to see Ramczyk, who people are saying is having a good camp, play, especially with the injury to Terron Armstead, which will force the Saints to juggle their offensive line for at least half the season.
5)---Another Preseason Loss: Once again, it's preseason, and the Saints were playing without Brees, Jordan, Mark Ingram, Adrian Peterson, Lattimore, and many others. Still, the Saints have now lost 10-consecutive preseason games, dating back to 2014. And while you would think that the outcome of preseason games don't mean anything, keep in mind; the Saints haven't exactly started the last few season like gangbusters. They began the last three seasons 0-2, started the last two seasons by losing their first three games. I still don't buy much into the postseason, but if the Saints go winless again this postseason, then get off to another slow start, I may begin to change my mind. It might be nice just to get one win, so I don't have to worry about it.
More From Talk Radio 960 AM