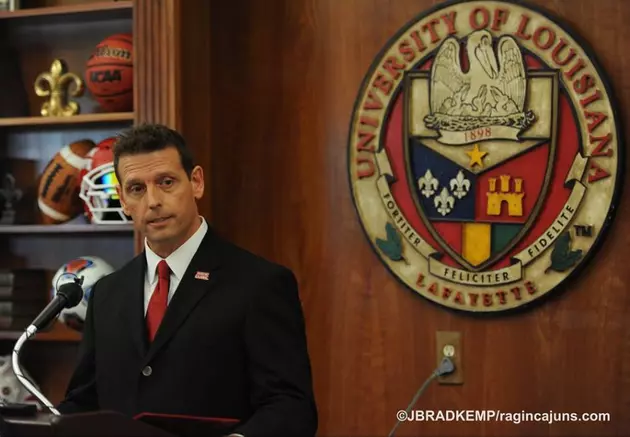 Get To Know Ragin' Cajuns Athletic Director Bryan Maggard
(photo by Brad Kemp/RaginCajuns.com)
Louisiana's Ragin' Cajuns announced their new Athletic Director Wednesday, and he unveiled his philosophy for the future in an emotional introduction ceremony.
Bryan Maggard is the new man in charge of Louisiana's athletic program, and he comes from Mizzou, where he spent 21 years in their athletic program. His experience with football scheduling, facility design and construction fit the bill for what the Ragin' Cajuns were looking for, and he's looking forward to stepping in the driver's seat.
In his introductory press conference, he outlined his vision for the future, and he pointed out the three things he will stress every day.
"My first message is that we will align with President [Joseph] Savoie's plans for the university," Maggard said. "The department of athletics must be in alignment with the President's plan for the university. That's my new boss, and I couldn't be more honored to work for you [Savoie] and with you."
He wants the athletic department to work hand in hand with the university, which will ensure everybody is on the same page and moving toward the same goals.
His next point was much more simple but just as important as the first.
"Secondly, we will provide a first class experience for our student athletes...academically, athletically and socially," Maggard said.
For his final message, he got inventive with a reference to one of the greatest minds in American history.
"My last message is that we're going to pursue excellence in all that we do. Thomas Edison said, "If there is a better way to do something, find it."
He also got very emotional when it came to talking about his wife and children. Take a few minutes to get to know the new man moving Louisiana into the future.
Maggard wasn't the only one in the room fighting off tears either. His heartfelt message to his wife cued up the waterworks for several people in attendance.
The Ragin' Cajuns are trying to hit the ground running with Maggard in charge. He already has some ideas he wants to get in motion, and it's clear he has his priorities in place.
In his first meeting with the media, he handled the questions swiftly and calmly in his Q&A session.
The Ragin' Cajuns keep expanding, and it's Maggard's job to continue growing the brand. This is a job he's been waiting for a long time, and he succeeded in day one on the job. Now, it's time to get down to business.
More From Talk Radio 960 AM