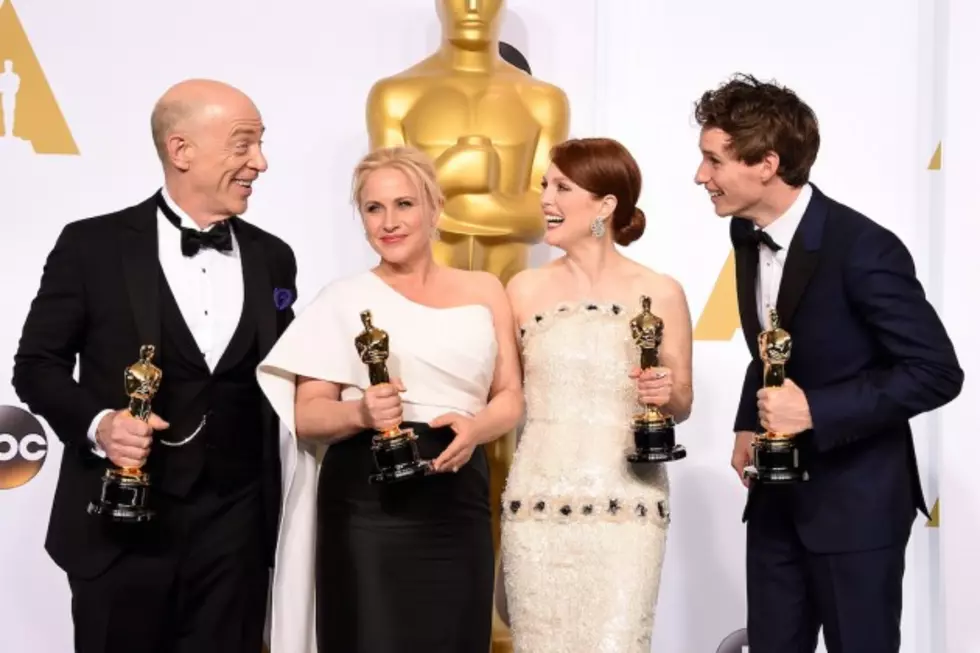 The Worst Oscars Ever! (At Least in Terms of Hot Takes)
Steve Granitz, WireImage
One of the few unquestioned highlights of this year's Academy Awards was the live performance of Best Original Song nominee "Everything is Awesome" from The LEGO Movie. Tegan and Sara and the Lonely Island performed, Oprah got her very own LEGO Oscar, and Will Arnett moaned about darkness and no parents while wearing Val Kilmer's Batsuit from Batman Forever. It was a great moment, but one that was totally out of touch with the spirit of the evening. According to almost every pundit and critic, everything was decidedly not awesome about the 87th Oscars.
The negative reviews were brutal; no wonder the show's ratings were the lowest in six years. It was Neil Patrick Harris' worst hosting job ever. It was the worst Oscars red carpet ever. It was the Oscars' worst graphics and stage backdrop ever (at least according to Donald Trump, one of America's leading experts on awards show graphics and stage backdrops). Birdman topping Boyhood was the Academy's "worst mistake in 20 years." The show was accused of breaking "their connection with the movies that many millions of people buy tickets to watch." In this context, David Edelstein's contention that this was "the best Oscars show in years (but it was still terrible)" felt downright generous. The internet does an amazing impression of The Simpsons' Comic Book Guy.
Others focused on comments in and around the show they found offensive. Sean Penn made a green card joke about his friend (and 12 Grams director) Alejandro González Iñárritu when announcing Birdman as the year's Best Picture; that one line "may have ruined the entire Oscars." Minutes earlier, Patricia Arquette won the Best Supporting Actress award and gave an impassioned acceptance speech about wage equality (which "appalled" some viewers anyway) then made additional remarks backstage on the subject and was accused of "whitewash[ing] feminism." There was so much outrage that New York Magazine was able to round up just the hottest hot takes into an entire list of Oscar freakouts.
The Oscars, just like movies or television shows or video games or anything else in the world of popular culture, are worthy of serious consideration. When filmmakers take political stands, that's worth talking about. When we disagree with their political stands, that discourse can be productive as well. But too many of these articles are instant reactions conceived and executed in minutes (or, on social media, even less). They're not designed to promote discussion, they're meant to stoke further outrage from those who agree — and to stoke hate-reads from those who disagree. There's no time to be serious. There's only time to be upset, and then to move on to the next target.
Look, if you were genuinely offended by something at the Academy Awards, more power to you. But perhaps a little bit of perspective is in order. Sean Penn made a dumb joke when his friend won an Oscar. Patricia Arquette, in the midst of perhaps the most exciting moment of her entire life, muddled her message (she later clarified her thoughts, at length, on Twitter). Oscar winners describe the time after they accept their award as a blur. ("I can't remember it at all, I just remember it being a sort of frenzied blur," is how Eddie Redmayne put it yesterday on British television.) Patricia Arquette's heart was obviously in the right place; maybe we could cut the borderline delirious woman some slack on the fine points?
The internet is a fabulous tool for communication, but I suspect these disproportionately angry reactions will eventually begin to stifle discussion. Patricia Arquette tried to take a stand for a seemingly good cause, bungled her thoughts slightly, and got vilified. At a certain point, what is the benefit for speaking out about anything? Eventually, every Oscar speech is going to look like Joe Pesci's; five words and a hasty exit.
The reality is this year's Oscars were pretty crummy. They were long and slow and they stopped the whole show to celebrate The Sound of Music but they couldn't find room for Harry Belafonte to accept his humanitarian award in person. From my perspective, the wrong movie won in several categories. But you know what? The Oscars are always crummy and the wrong movie almost always wins. It was the worst Oscars ever when Rob Lowe and Snow White had their infamous duet back in 1989. It was the worst Oscars ever ("a shambles!") when David Letterman repeatedly introduced Uma Thurman to Oprah Winfrey. It was the worst Oscars ever when James Franco and Anne Hathaway hosted. It was the worst Oscars ever when Forrest Gump won Best Picture instead of The Shawshank Redemption or Pulp Fiction. And that's just one of a billion examples of films that went ignored by the Academy.
No matter how upset anyone gets, the Oscars will be back next year. No matter what happens, a fair number of people will argue they are the worst Oscars ever; God himself could show up with a resurrected Alfred Hitchcock as His date, and people would still complain. (I can see the headlines now: "What God Got Wrong About Bringing Hollywood Directors Back From the Dead.") The Academy Awards could certainly do better, but they could also do worse. And the frenzy around the slip-ups is obscuring any conversation the lovely moments; the performance of "Glory" by John Legend and Common, the acceptance speeches by Julianne Moore, Graham Moore and, yes, Patricia Arquette. The LEGO Movie song was pretty good too. I'm not sure anyone was paying attention, though.
More From Talk Radio 960 AM